Webinar Archives

Webinars are free sponsored educational seminars that are accessed over the Internet. You can register for upcoming Webinars or view archived presentations via the links below.
Open CORD Project Paves the Way for 5G Innovation




Date:

3/16/2017
Sponsors: Telco Transformation
View archived webinar

The promise of 5G connectivity is a truly Networked Society. 5G is not just about making the throughput larger, it is also about offering use case optimized user experiences and inclusion of new vertical sectors. Use cases predicted for 2020 will need new types of connectivity services that are highly scalable and programmable in terms of speed, capacity, security, reliability, availability, latency and impact on battery type. 5G will need to be an agile, dynamically programmable network that can meet diverse needs with new, as-a-service models on a single infrastructure. In this Webinar, you will learn how the Open Networking Foundation is combining open source and software defined standards through its Open innovation Pipeline to advance innovative architectures such as mobile CORD (M-CORD). M-CORD is being developed by the CORD Project community under ONF's leadership and hosted by The Linux Foundation. Built on the pillars of SDN, NFV and cloud technologies, the end-to-end M-CORD open reference solution is arming operators with the capabilities needed to start planning for the upcoming 5G transition.
OPEN-O- Any Service Over Any Network




Date:

1/23/2017
Sponsors: Telco Transfomation
View archived webinar

Over the past year, open source networking had climbed up the stack, resulting in a number of open orchestration initiatives.

OPEN-O is a new Linux Foundation Collaborative Project, that bridges NFV and SDN by enabling operators to orchestrate composite services based on a wide range of VNFs that may be dynamically deployed over SDN and legacy network services.

In less than 5 months from the formation of the project, OPEN-O delivered its initial release, leveraging among the world's largest carriers and vendors.

In this webinar, the OPEN-O leadership will provide an overview of the OPEN-O project, including the architecture, key technologies, and project status. We will also share China Telecom's perspective on OPEN-O as CT pursues their CTNet2025 SDN/NFV architecture for the future.
ECOMP: Harmonizing Open Source MANO




Date:

11/30/2016
Sponsors: AT&T & Orange
View archived webinar

AT&T developed its Enhanced Control, Orchestration, Management and Policy (ECOMP) platform as the automation layer for its network software and virtual functions, and to tie both virtualized and SDN-based legacy elements together across its network.

In this webinar, Chris Rice, senior vice president of Domain 2.0 Architecture and Design at AT&T, and Laurent Leboucher, vice president APIs and Digital Ecosystems at Orange, will take a deep dive into how ECOMP works, why it's important to the telecom industry, how it can bring harmonization to the MANO sector, how Orange plans on testing it, and what the roadmap is for putting it into open source with the Linux Foundation.

Verizon is achieving improved efficiencies in its cloud operations by implementing web-scale operations.
SDN has evolved from its early days of inception, which is reflected in this Telco Transformation poll.
McRae talks about how BT is tapping into common service models and machine learning.
Orange is working with Colt, AT&T, TM Forum and MEF to standardize SDN for interoperability across networks.
BT's chief network architect talks about how SDN is a critical piece of his company's automation plans.

In this Telco Transformation radio show, IHS Markit's Michael Howard will talk about the network domains that carriers are targeting for SDN, the top SDN services that are driving revenues and the deployment barriers this year. Howard will also address whether carriers are embracing open source or using vendor-specific implementations.
Monday, September 11, 2017
12 p.m. EDT
This hour-long webinar will provide a presentation and discussion of ONOS YANG Tools, a new Java tool-chain, introduced with ONOS Kingfisher release, and the upcoming support of OpenConfig and OpenROADM models. In this webinar, Thomas Vachuska, chief architect at the Open Networking Foundation, and Anees Shaikh, network architect, Google, will cover the capabilities of the new YANG tool-chain and will discuss the roles OpenConfig models and YANG in general play in managing large networks.
All resources
BCE Keeps Austin Awesome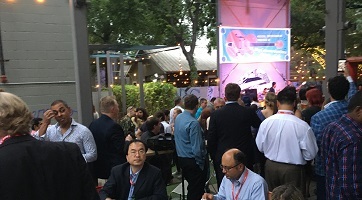 Slideshow archive