Webinar Archives

Webinars are free sponsored educational seminars that are accessed over the Internet. You can register for upcoming Webinars or view archived presentations via the links below.
OPEN-O- Any Service Over Any Network




Date:

1/23/2017
Sponsors: Telco Transfomation
View archived webinar

Over the past year, open source networking had climbed up the stack, resulting in a number of open orchestration initiatives.

OPEN-O is a new Linux Foundation Collaborative Project, that bridges NFV and SDN by enabling operators to orchestrate composite services based on a wide range of VNFs that may be dynamically deployed over SDN and legacy network services.

In less than 5 months from the formation of the project, OPEN-O delivered its initial release, leveraging among the world's largest carriers and vendors.

In this webinar, the OPEN-O leadership will provide an overview of the OPEN-O project, including the architecture, key technologies, and project status. We will also share China Telecom's perspective on OPEN-O as CT pursues their CTNet2025 SDN/NFV architecture for the future.
ECOMP: Harmonizing Open Source MANO




Date:

11/30/2016
Sponsors: AT&T & Orange
View archived webinar

AT&T developed its Enhanced Control, Orchestration, Management and Policy (ECOMP) platform as the automation layer for its network software and virtual functions, and to tie both virtualized and SDN-based legacy elements together across its network.

In this webinar, Chris Rice, senior vice president of Domain 2.0 Architecture and Design at AT&T, and Laurent Leboucher, vice president APIs and Digital Ecosystems at Orange, will take a deep dive into how ECOMP works, why it's important to the telecom industry, how it can bring harmonization to the MANO sector, how Orange plans on testing it, and what the roadmap is for putting it into open source with the Linux Foundation.
OPEN-O: Orchestrating SDN & NFV




Date:

6/28/2016
View archived webinar

The OPEN-O vision enables orchestration of any service over any network by using a modular approach that integrates with multiple VNF managers, SDN controllers and VIMs.

We invite technologists and business leaders to the first webinar on OPEN-O, which addresses the target use cases that influenced the OPEN-O functional architecture, software baseline, and a project update.
Verizon Gears Up for IoT




Date:

5/5/2016
Sponsors: Telco Transformation & Verizon
View archived webinar

Verizon is expanding its Internet of Things (IoT) efforts across multiple fronts this year, including opening up its IoT platform to third-party developers and technology service providers.

In the third part of this Q&A, ODL's Caywood talked about the evolution of software-defined networking and northbound APIs.
US communications regulator kicks off the rulemaking process for ATSC 3.0, a new broadcast standard enabling localized broadcasts, better accessibility options and data casting.
Combing OPEN-O and ECOMP into ONAP should bring more harmony to the MANO sector.
The latest State of the Industry: Mobile Video Report from AOL found that the mobile screen is set to dominate video viewing, and that the large majority of users say they can't live without their smartphones.
NFV presents an opportunity to breathe new life into OSS.

In this Telco Transformation radio show, James Crawshaw, Senior Analyst – OSS/BSS Transformation, Heavy Reading, will discuss the challenges and opportunities around re-creating OSS in a virtualized world.
Thursday, March 16, 2017
12:00 p.m. New York/5:00 p.m. London
The promise of 5G connectivity is a truly Networked Society. 5G is not just about making the throughput larger, it is also about offering use case optimized user experiences and inclusion of new vertical sectors. Use cases predicted for 2020 will need new types of connectivity services that are highly scalable and programmable in terms of speed, capacity, security, reliability, availability, latency and impact on battery type. 5G will need to be an agile, dynamically programmable network that can meet diverse needs with new, as-a-service models on a single infrastructure. In this Webinar, you will learn how the Open Networking Foundation is combining open source and software defined standards through its Open innovation Pipeline to advance innovative architectures such as mobile CORD (M-CORD). M-CORD is being developed by the CORD Project community under ONF's leadership and hosted by The Linux Foundation. Built on the pillars of SDN, NFV and cloud technologies, the end-to-end M-CORD open reference solution is arming operators with the capabilities needed to start planning for the upcoming 5G transition.
All resources
No Linear Please, We're Millennial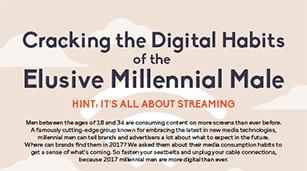 Infographics archive