About Us
Communications service providers (CSPs) the world over are in the midst of a transformation unlike anything they have experienced before. Not only are they facing an unprecedented shift in the network architectures that underpin their businesses, as programmable networks and virtual network functions become part of their day-to-day operations, but the supporting IT and back office systems and the culture of their entire organizations need to change too.

Telco Transformation makes sense of these critical developments by offering a unique online community that tracks the way that CSPs are re-inventing themselves to become more agile and competitive organizations that can deliver next generation services and technology to their customers and remain key players in a digital world.

With interactions and engagement with CSP executives at the heart of Telco Transformation's content, the site delivers interviews, guest blogs, video conversations, live radio shows, reader polls, webinars, infographics and more to highlight the transformation underway in five key areas:
CULTURE -- Communications service providers are changing the way their staff work, seeking new skills and capabilities, and changing the way they organize and structure their human resources. Topics covered in CULTURE include DevOps, applications development, corporate culture, appointments, and the creation of new roles such as Chief Digital Officer.
BUSINESS MODEL -- Communications service providers are transforming their business strategies and initiatives, introducing new models of engagement with customers and partners -- for example, by striking relationships with Web services/OTT players and enterprises. Topics covered in BUSINESS MODEL include business strategies, partnerships and marketing initiatives.
DIGITAL OPERATIONS -- Communications service providers are developing strategies and deploying applications, tools and services that enable them to provide improved customer experience through real-time, online interfaces (including social media platforms), enabling customers to make instant, on-demand decisions that suit their immediate needs. Topics covered in DIGITAL OPERATIONS include Big Data analytics, policy control and billing/charging/rating, social media engagement, customer experience management, customer portal development, revenue assurance and data traffic management/inspection.
ARCHITECTURE -- To remain competitive and profitable in a Web service-oriented world, communications service providers are revamping and upgrading their network, data center and IT infrastructure. Topics covered in ARCHITECTURE include data center developments, virtualization, mobile edge computing, next gen central office/local exchange design, ultra-broadband technologies (mobile, fixed, cable) and video transport and management capabilities.
SERVICES -- Communications service providers are developing and introducing new services and applications that will transform their product and services portfolios. Topics covered in SERVICES include cloud, IoT/M2M, OTT services, 4K/8K/UHD video, real-time multimedia applications and unified communications.
Telco Transformation also features lively, interactive discussions on its message boards, where some of the key challenges facing CSPs are discussed on a daily basis.
To gain the full benefits of the community and interact with other registered users, sign up here to participate in the radio shows, webinars and message board interactions and to receive our weekly email newsletter, Telco Transformation Update.
If you have a suggestion for the team or want to reach the editors, send an email to editors@telcotransformation.com

Enterprise cloud is still evolving, but it's already starting to mirror legacy on premise infrastructure.
The rapid pace of OTT adoption really is a worldwide phenomenon, as a recent research report from Roy Morgan Research shows.
Matherson breaks down the opportunities and the obstacles that businesses face when moving to enterprise cloud.
Data and measurement company comScore just released its 2017 US Cross-Platform Future in Focus report. Findings include key trends in mobile media consumption.
CenturyLink eschews ONOS' CORD by developing its own version for its residential and business DSL customers.

In this Telco Transformation Radio show, Rob Koenen, President of the VRIF, joins us to discuss key developments, remaining challenges in VR, and the role of the VRIF in helping the development of an incredibly exciting technology.
Thursday, March 16, 2017
12:00 p.m. New York/4:00 p.m. London
The promise of 5G connectivity is a truly Networked Society. 5G is not just about making the throughput larger, it is also about offering use case optimized user experiences and inclusion of new vertical sectors. Use cases predicted for 2020 will need new types of connectivity services that are highly scalable and programmable in terms of speed, capacity, security, reliability, availability, latency and impact on battery type. 5G will need to be an agile, dynamically programmable network that can meet diverse needs with new, as-a-service models on a single infrastructure. In this Webinar, you will learn how the Open Networking Foundation is combining open source and software defined standards through its Open innovation Pipeline to advance innovative architectures such as mobile CORD (M-CORD). M-CORD is being developed by the CORD Project community under ONF's leadership and hosted by The Linux Foundation. Built on the pillars of SDN, NFV and cloud technologies, the end-to-end M-CORD open reference solution is arming operators with the capabilities needed to start planning for the upcoming 5G transition.
All resources
Barcelona Shines During MWC
Slideshow archive
ECN: What's Hot for Cloud Skills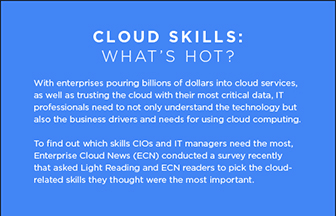 Infographics archive