Digital Disruption: Early Days for Carriers
When it comes to telcos transforming themselves into digital service providers, there needs to be a bigger bang, according to a recent report.
A report by Technology Business Research Inc. (TBR) found that Tier 1 operators' progress towards becoming digital service providers (DSP) is evolutionary rather than disruptive transformation.
As DSPs, operators would reap the rewards of providing embedded or enabled services models, but TBR said they weren't moving fast enough on their digital transformations and that their business models were suffering because of it.
While operators are tapping into the potential of software-defined networking, they're currently focused on the short-term cost saving benefits instead of using SDN to speed up their journey to the DSP-enabled model, the report said. Carriers need to engage in additional strategic planning in order to build a parallel track in the embedded services model.
---
Want to know more about the companies, people and organizations driving developments in the virtualization sector? Check out Virtuapedia, the most comprehensive online resource covering the virtualization industry.
---
They also need to play a bigger role in the digital content presentation, creation and optimization areas of the ecosystem across various services in order to push the telco industry into the DSP industry.
The report cited AT&T Inc. (NYSE: T), Verizon Communications Inc. (NYSE: VZ), Vodafone Group plc (NYSE: VOD), BT and Bharti Airtel Ltd. (Mumbai: BHARTIARTL) as examples of service providers that are moving towards the DSP business model.

— Mike Robuck, Editor, Telco Transformation

Sudhanshu Vats, group CEO of Indian broadcast and video conglomerate Viacom 18, shares his thoughts on AR/VR and artificial intelligence.
ETSI Open Source MANO group has issued Release TWO, which includes improvements to interoperability, performance, stability and security.
Hong Kong incumbent PCCW launches new slate of original content for its Viu OTT service, joining an increasing number of OTT providers who recognize the value of original series.
Chris Rice, senior vice president of AT&T Labs, isn't expecting VNF onboarding to be child's play, but he is hoping for simple processes that can be automated and replicated.
TDC's head of OTT and VoD discusses the operator's services with Telco Transformation.

During this radio show, Adam Dunstan, CenturyLink's vice president of SDN and NFV engineering, will talk about CenturyLink's approach to making its network less complex while adding flexibility and automation.
Thursday, March 16, 2017
12:00 p.m. New York/4:00 p.m. London
The promise of 5G connectivity is a truly Networked Society. 5G is not just about making the throughput larger, it is also about offering use case optimized user experiences and inclusion of new vertical sectors. Use cases predicted for 2020 will need new types of connectivity services that are highly scalable and programmable in terms of speed, capacity, security, reliability, availability, latency and impact on battery type. 5G will need to be an agile, dynamically programmable network that can meet diverse needs with new, as-a-service models on a single infrastructure. In this Webinar, you will learn how the Open Networking Foundation is combining open source and software defined standards through its Open innovation Pipeline to advance innovative architectures such as mobile CORD (M-CORD). M-CORD is being developed by the CORD Project community under ONF's leadership and hosted by The Linux Foundation. Built on the pillars of SDN, NFV and cloud technologies, the end-to-end M-CORD open reference solution is arming operators with the capabilities needed to start planning for the upcoming 5G transition.
All resources
Barcelona Shines During MWC
Slideshow archive
Dissecting 'Mobile-First' Usage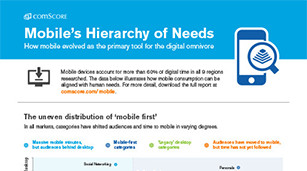 Infographics archive