Service Providers Need to Embrace Disruption
While most Tier 1 service providers have started down the pathway to creating their own digital ecosystems, bigger disruptions are needed for them to become digital service providers.
In order to play a larger role in digital ecosystems, today's service providers need to transform beyond operating transport networks, according to a report by Technology Business Research Inc. (TBR) that was commissioned by Huawei Technologies Co. Ltd.
Instead of just providing connectivity, digital service providers (DSPs) can increase their revenues from two sources, according to the report. The first, enabled services, includes providing all of or part of the elements that are needed in a digital ecosystem to support consumer or business user experiences. Embedded services would include the creation of digital content, providing marketing around it, building consumer and engagement interfaces, fulfillment and support of the content requirements and analyzing the transactions.
The second source of potential revenue for DSPs was enabled services, which includes providing the necessary services to enable transport of the digital services at the right time, in the right place and in the right manner. The report said that with advanced user expectations and technology innovations, both of which should be in place by 2020, enabled services will need to provide data in real time in order to achieve network scale, security and dynamic quality of service.
Here's a look at the digital ecosystem and the platform requirements that telcos will need to turn themselves into DSPs:

— Mike Robuck, Editor, Telco Transformation

Combing OPEN-O and ECOMP into ONAP should bring more harmony to the MANO sector.
The latest State of the Industry: Mobile Video Report from AOL found that the mobile screen is set to dominate video viewing, and that the large majority of users say they can't live without their smartphones.
NFV presents an opportunity to breathe new life into OSS.
Telecom Italia's EVP & Head of Multimedia Entertainment & Consumer Digital Services, Daniela Biscarini, discusses the operator's TV strategy.
Verizon and Yahoo agree to cut the price of their deal, and to split some of the liabilities.

In this Telco Transformation radio show, James Crawshaw, Senior Analyst – OSS/BSS Transformation, Heavy Reading, will discuss the challenges and opportunities around re-creating OSS in a virtualized world.
Thursday, March 16, 2017
12:00 p.m. New York/5:00 p.m. London
The promise of 5G connectivity is a truly Networked Society. 5G is not just about making the throughput larger, it is also about offering use case optimized user experiences and inclusion of new vertical sectors. Use cases predicted for 2020 will need new types of connectivity services that are highly scalable and programmable in terms of speed, capacity, security, reliability, availability, latency and impact on battery type. 5G will need to be an agile, dynamically programmable network that can meet diverse needs with new, as-a-service models on a single infrastructure. In this Webinar, you will learn how the Open Networking Foundation is combining open source and software defined standards through its Open innovation Pipeline to advance innovative architectures such as mobile CORD (M-CORD). M-CORD is being developed by the CORD Project community under ONF's leadership and hosted by The Linux Foundation. Built on the pillars of SDN, NFV and cloud technologies, the end-to-end M-CORD open reference solution is arming operators with the capabilities needed to start planning for the upcoming 5G transition.
All resources
No Linear Please, We're Millennial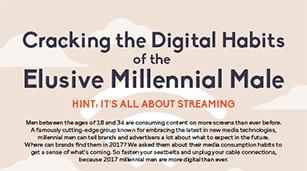 Infographics archive