Voting for first place in the latest Telco Transformation caption contest ended in a three-way tie, so the judging panel had to pick the first-place winner.
It was very tempting to have a run-off among the top-three vote-getters, but I previously said if the contest ended in a tie that I would pick the winner. (See TT Caption Contest: Revised to Include Voting!)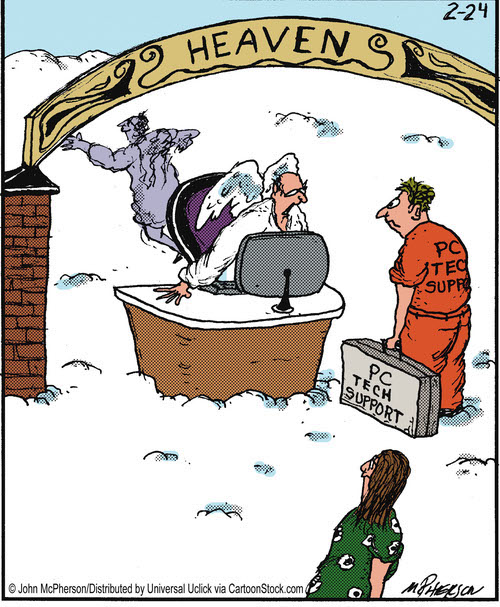 So without further ado, the winning caption was:
The Warning: "Be careful. 'Downtime' means something very different here," by Joe Stanganelli. Joe can thank ms.akkineni for voting for him. Joe won a $100 Amazon Gift Card. He posted some other noteworthy captions that I'll include below.
Second-place went to: "It's pretty bad up here. We're still trying to get off Windows XP," by dcawrey. Daniel won a $75 Amazon Gift Card.
I didn't get this caption until I looked back at the cartoon again, but the third-place winner was: "We are not looking for a Plumbing Contractor!" by drmrs63465, who was awarded a $50 Amazon Gift Card.
We'll be doing at least one more caption contest this month, but in the meantime here's a sampling from the 109 posts we had.
"What... Is the Cloud messed up?? How could you let that happen... Grrrrrrrrr," by ms.akkineni.
"Your family tried unplugging you and plugging you back in to see if you got better. You didn't," by Joe, and "We've got a ransomware infection, but it's okay. Jesus saves."
"If you ask me if I've tried restarting this computer one more time, I'm going to send you to the other place!" by mhhf1ve, and "I'm sorry, our computers are down at the moment, and due to new security measures, we can't let you in to fix them BEFORE you're registered in our database."
"Sorry, but you're not in the system," by vnewman.
"No, it's not your time yet. We're just seeing if turning you off and then back on will fix the problem. It always straightens Lazarus right out when he starts running slow," by JohnBarnes.
"Sorry, we are signed up for Remote Support," by DHagar.
"We've been waiting all day for you guys. Our servers are corrupted. Some people got in the back door and we need to send them back," by freehe.
"We can overlook a few sins. Answering all your relatives' computer questions and setting up their printers proves you already have the patience of a saint. You're in!" by faryl.
Thanks again to everyone that posted.
— Mike Robuck, Editor, Telco Transformation