Member Since: December 31, 2015
Over 30 years management experience in aerospace, healthcare, and over the past 20 years through Hagar & Associates consulting with multiple industries - mostly healthcare, local government, transportation/logistics. Currently developing projects focused on economic/jobs development through the use of technology.
Have worked with data management and data storage for over 20 years, including with Ray Norda's team with Novell Corporation, Digital, Data General and EMC in the 90's. Have primarily been working with Big Data, Analytics, and Communications Networks for the past 5 years. Have recently established an Analytics Center of Excellence in Southern California with IBM's Smart Cities and Connected Communities, for transportation/goods movement with ports and major industries. Currently managing a 5-year project with public/private partnerships in tele communications, networks, and distribution channels for increased Smarter Systems, including as a platform for IoT. Developing applications, and monetizing data for wider networks and use.
Have MBA and teach as a Sr. Adjunct Professor with the University of LaVerne classes in management, technology, and business in both the undergraduate and graduate levels.

ETSI Research Specialist Joan Triay talks about NFV best practices and the close relationship between NFV and automation in part two of this Q&A.
Huawei's TestCraft platform was designed to simplify NFV and SDN testing for carriers.
Level 3's Travis Ewert espouses the benefits of NFV automation to both the organization and the worker – assuming IT gets the culture piece right.
Bill Walker addresses key issues for deploying NFV, including the need for both IT and telco employees to come to terms on common goals.
ETSI research specialist Joan Triay provides an update on what ETSI was up to in Denver recently, what to expect at the next round of ETSI NFV Plugtests and the challenges it faces with security integration.

In this Telco Transformation radio show, IHS Markit's Michael Howard will talk about the network domains that carriers are targeting for SDN, the top SDN services that are driving revenues and the deployment barriers this year. Howard will also address whether carriers are embracing open source or using vendor-specific implementations.
Thursday, September 21, 2017
12pm EST
Software-defined networking (SDN) is a key component of services providers' virtualization game plans and AT&T and Level 3 Communications have been at the forefront of its adoption.
In this webinar, Andrew Dugan, CTO of Level 3 Communications, and Amy Wheelus, Vice President of Cloud and D2 Platform Integration at AT&T, will discuss how their companies have leveraged SDN within their networks, services and applications. Some of the key areas that will be covered include:
Automation, APIs and lifecycle service orchestration
The continued evolution of SDN-based solutions and SDN in networks, including SD-WAN, dynamic cloud connections and scalable Ethernet and security solutions.
All resources
BCE Keeps Austin Awesome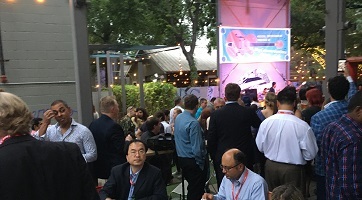 Slideshow archive