Member Since: December 31, 2015
Over 30 years management experience in aerospace, healthcare, and over the past 20 years through Hagar & Associates consulting with multiple industries - mostly healthcare, local government, transportation/logistics. Currently developing projects focused on economic/jobs development through the use of technology.
Have worked with data management and data storage for over 20 years, including with Ray Norda's team with Novell Corporation, Digital, Data General and EMC in the 90's. Have primarily been working with Big Data, Analytics, and Communications Networks for the past 5 years. Have recently established an Analytics Center of Excellence in Southern California with IBM's Smart Cities and Connected Communities, for transportation/goods movement with ports and major industries. Currently managing a 5-year project with public/private partnerships in tele communications, networks, and distribution channels for increased Smarter Systems, including as a platform for IoT. Developing applications, and monetizing data for wider networks and use.
Have MBA and teach as a Sr. Adjunct Professor with the University of LaVerne classes in management, technology, and business in both the undergraduate and graduate levels.

Enterprise cloud is still evolving, but it's already starting to mirror legacy on premise infrastructure.
The rapid pace of OTT adoption really is a worldwide phenomenon, as a recent research report from Roy Morgan Research shows.
Matherson breaks down the opportunities and the obstacles that businesses face when moving to enterprise cloud.
Data and measurement company comScore just released its 2017 US Cross-Platform Future in Focus report. Findings include key trends in mobile media consumption.
CenturyLink eschews ONOS' CORD by developing its own version for its residential and business DSL customers.

In this Telco Transformation Radio show, Rob Koenen, President of the VRIF, joins us to discuss key developments, remaining challenges in VR, and the role of the VRIF in helping the development of an incredibly exciting technology.
Thursday, March 16, 2017
12:00 p.m. New York/4:00 p.m. London
The promise of 5G connectivity is a truly Networked Society. 5G is not just about making the throughput larger, it is also about offering use case optimized user experiences and inclusion of new vertical sectors. Use cases predicted for 2020 will need new types of connectivity services that are highly scalable and programmable in terms of speed, capacity, security, reliability, availability, latency and impact on battery type. 5G will need to be an agile, dynamically programmable network that can meet diverse needs with new, as-a-service models on a single infrastructure. In this Webinar, you will learn how the Open Networking Foundation is combining open source and software defined standards through its Open innovation Pipeline to advance innovative architectures such as mobile CORD (M-CORD). M-CORD is being developed by the CORD Project community under ONF's leadership and hosted by The Linux Foundation. Built on the pillars of SDN, NFV and cloud technologies, the end-to-end M-CORD open reference solution is arming operators with the capabilities needed to start planning for the upcoming 5G transition.
All resources
Barcelona Shines During MWC
Slideshow archive
ECN: What's Hot for Cloud Skills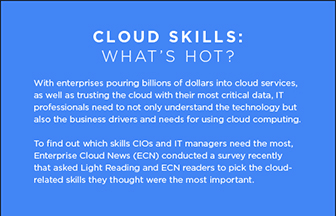 Infographics archive