Member Since: December 31, 2015
Over 30 years management experience in aerospace, healthcare, and over the past 20 years through Hagar & Associates consulting with multiple industries - mostly healthcare, local government, transportation/logistics. Currently developing projects focused on economic/jobs development through the use of technology.
Have worked with data management and data storage for over 20 years, including with Ray Norda's team with Novell Corporation, Digital, Data General and EMC in the 90's. Have primarily been working with Big Data, Analytics, and Communications Networks for the past 5 years. Have recently established an Analytics Center of Excellence in Southern California with IBM's Smart Cities and Connected Communities, for transportation/goods movement with ports and major industries. Currently managing a 5-year project with public/private partnerships in tele communications, networks, and distribution channels for increased Smarter Systems, including as a platform for IoT. Developing applications, and monetizing data for wider networks and use.
Have MBA and teach as a Sr. Adjunct Professor with the University of LaVerne classes in management, technology, and business in both the undergraduate and graduate levels.

Early detection of security risks at the entry point minimizes loss and speeds up detection.
SD-WAN has room to grow, according to a panel at the MEF17 conference.
During his keynote address at MEF17, Verizon's Eric Cevis said the industry needs to continue to develop standards.
Carriers need to get on the digital transformation bandwagon or risk their customers going to other service providers.
MEF 3.0 specifications will enable agile, orchestrated services at a much faster rate by creating a new ecosystem.
10/16/2017
Huawei Network Transformation Seminar
The adoption of virtualization technology and cloud architectures by telecom network operators is now well underway but there is still a long way to go before the transition to an era of Network Functions Cloudification (NFC) is complete.

MEF is working to define, deliver, and certify dynamic communications services that are orchestrated across a global ecosystem of automated, virtualized and interconnected networks. In this radio show, MEF CTO Pascal Menezes talks about the challenges and the solutions that his organization is working on and provides a preview of the MEF17 conference in November.
Thursday, September 21, 2017
12pm EST
Software-defined networking (SDN) is a key component of services providers' virtualization game plans and AT&T and Level 3 Communications have been at the forefront of its adoption.
In this webinar, Andrew Dugan, CTO of Level 3 Communications, and Amy Wheelus, Vice President of Cloud and D2 Platform Integration at AT&T, will discuss how their companies have leveraged SDN within their networks, services and applications. Some of the key areas that will be covered include:
Automation, APIs and lifecycle service orchestration
The continued evolution of SDN-based solutions and SDN in networks, including SD-WAN, dynamic cloud connections and scalable Ethernet and security solutions.
All resources
NFV/SDN: Summit Ascent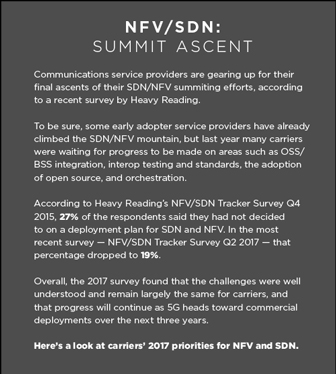 Infographics archive