Member Since: March 22, 2016
Professional writer (science fiction and tech journalism). Consultant in marketing intelligence analysis and statistics. Many other areas of interest. Currently retraining in data science; strong interests in potential for machine learning, natural language processing, and self-training predictors, especially in semiotic and qualitative data.
Fiction can be found at tinyurl.com/JohnBarnesAmazonProfile.
I tweet as JohnBarnesSF, recreationally rather than professionally, and my personal blog, which is a mixture of essays about literature, the news, mathematics education, and general silliness in the long form is at thatjohnbarnes.blogspot.com. 53 articles by me appear in the Oxford Encyclopedia of Theatre and Performance.

I have occasionally been accused of being a writing collective.

ETSI Research Specialist Joan Triay talks about NFV best practices and the close relationship between NFV and automation in part two of this Q&A.
Huawei's TestCraft platform was designed to simplify NFV and SDN testing for carriers.
Level 3's Travis Ewert espouses the benefits of NFV automation to both the organization and the worker – assuming IT gets the culture piece right.
Bill Walker addresses key issues for deploying NFV, including the need for both IT and telco employees to come to terms on common goals.
ETSI research specialist Joan Triay provides an update on what ETSI was up to in Denver recently, what to expect at the next round of ETSI NFV Plugtests and the challenges it faces with security integration.

In this Telco Transformation radio show, IHS Markit's Michael Howard will talk about the network domains that carriers are targeting for SDN, the top SDN services that are driving revenues and the deployment barriers this year. Howard will also address whether carriers are embracing open source or using vendor-specific implementations.
Thursday, September 21, 2017
12pm EST
Software-defined networking (SDN) is a key component of services providers' virtualization game plans and AT&T and Level 3 Communications have been at the forefront of its adoption.
In this webinar, Andrew Dugan, CTO of Level 3 Communications, and Amy Wheelus, Vice President of Cloud and D2 Platform Integration at AT&T, will discuss how their companies have leveraged SDN within their networks, services and applications. Some of the key areas that will be covered include:
Automation, APIs and lifecycle service orchestration
The continued evolution of SDN-based solutions and SDN in networks, including SD-WAN, dynamic cloud connections and scalable Ethernet and security solutions.
All resources
BCE Keeps Austin Awesome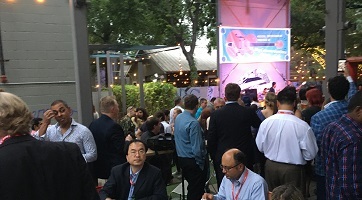 Slideshow archive