Big Data Throwdown: Top 10 Trends
Network virtualization is catching big data analytics in its wake as service providers and businesses are increasingly counting on analytics to not only collect more data, but also use it to make better data-driven decisions at a faster pace.
The use of big data analytics also includes a cultural transformation in order to help carriers and their end customers better understand the information that is being gathered.
According to a report by IDC, worldwide revenues for big data will grow from $130.1 billion last year to more than $203 billion by 2020.
Each year, software company Tableau examines industry trends related to big data analytics. That information drives the company's top ten data trends for the following year. Here's a look at Tableau's predictions for this year.
— Mike Robuck, Editor, Telco Transformation

Orange is working with Colt, AT&T, TM Forum and MEF to standardize SDN for interoperability across networks.
BT's chief network architect talks about how SDN is a critical piece of his company's automation plans.
Orange is using SDN to enable automation on its networks.
Analyst Michael Howard spoke about the benefits of automation during a recent Telco Transformation radio show.
A recent Telco Transformation poll found that a balanced pay-TV and OTT offering, and pricing and packaging flexibility, were the most important requirements for a pay-TV provider to succeed today.

In this Telco Transformation radio show, IHS Markit's Michael Howard will talk about the network domains that carriers are targeting for SDN, the top SDN services that are driving revenues and the deployment barriers this year. Howard will also address whether carriers are embracing open source or using vendor-specific implementations.
Thursday, March 16, 2017
12:00 p.m. New York/4:00 p.m. London
The promise of 5G connectivity is a truly Networked Society. 5G is not just about making the throughput larger, it is also about offering use case optimized user experiences and inclusion of new vertical sectors. Use cases predicted for 2020 will need new types of connectivity services that are highly scalable and programmable in terms of speed, capacity, security, reliability, availability, latency and impact on battery type. 5G will need to be an agile, dynamically programmable network that can meet diverse needs with new, as-a-service models on a single infrastructure. In this Webinar, you will learn how the Open Networking Foundation is combining open source and software defined standards through its Open innovation Pipeline to advance innovative architectures such as mobile CORD (M-CORD). M-CORD is being developed by the CORD Project community under ONF's leadership and hosted by The Linux Foundation. Built on the pillars of SDN, NFV and cloud technologies, the end-to-end M-CORD open reference solution is arming operators with the capabilities needed to start planning for the upcoming 5G transition.
All resources
BCE Keeps Austin Awesome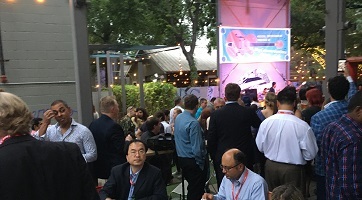 Slideshow archive