Barcelona Shines During MWC
BARCELONA -- Mobile World Congress 2017 -- Mobile World Congress continued its growth spurt during the 2017 edition as a record number of attendees were on hand to soak up the unseasonably warm weather, overindulge in food and drink and take in all of the technology on the show floor of Barcelona's Fira Gran Via.
Last year, Mobile World Congress (MWC) set an attendance record of 101,000, but that record fell to the 108,000 visitors who were on hand from Feb. 27 to March 2. This year's event drew more than 2,300 exhibitors from 208 countries and territories.
As to what was hot at MWC this year, 5G continued to dominate conversations across vendors' booths, keynotes and panels. Virtual reality demos at MWC were like tapas -- everywhere.
Check out this slideshow for a small slice of Barcelona and MWC. Click on the picture below to start.

New research from Hub Entertainment finds that initial consumer enthusiasm wanes when confronted by the cost of creating an individual bundle of programming options.
Telenor is working across three primary fronts for its digitization initiative.
This month's cartoon caption contest focuses on artificial intelligence.
Analysts at Jefferies believe Snap is well positioned for growth in coming years due to its base of highly engaged young millennial users and its policy of targeting lucrative advertising markets.
Enterprise cloud is still evolving, but it's already starting to mirror legacy on premise infrastructure.

In this Telco Transformation Radio show, Rob Koenen, President of the VRIF, joins us to discuss key developments, remaining challenges in VR, and the role of the VRIF in helping the development of an incredibly exciting technology.
Thursday, March 16, 2017
12:00 p.m. New York/4:00 p.m. London
The promise of 5G connectivity is a truly Networked Society. 5G is not just about making the throughput larger, it is also about offering use case optimized user experiences and inclusion of new vertical sectors. Use cases predicted for 2020 will need new types of connectivity services that are highly scalable and programmable in terms of speed, capacity, security, reliability, availability, latency and impact on battery type. 5G will need to be an agile, dynamically programmable network that can meet diverse needs with new, as-a-service models on a single infrastructure. In this Webinar, you will learn how the Open Networking Foundation is combining open source and software defined standards through its Open innovation Pipeline to advance innovative architectures such as mobile CORD (M-CORD). M-CORD is being developed by the CORD Project community under ONF's leadership and hosted by The Linux Foundation. Built on the pillars of SDN, NFV and cloud technologies, the end-to-end M-CORD open reference solution is arming operators with the capabilities needed to start planning for the upcoming 5G transition.
All resources
Barcelona Shines During MWC
Slideshow archive
ECN: What's Hot for Cloud Skills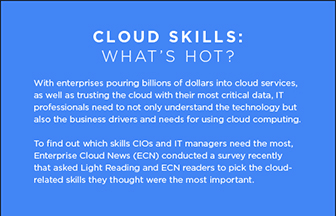 Infographics archive