Barcelona Shines During MWC
BARCELONA -- Mobile World Congress 2017 -- Mobile World Congress continued its growth spurt during the 2017 edition as a record number of attendees were on hand to soak up the unseasonably warm weather, overindulge in food and drink and take in all of the technology on the show floor of Barcelona's Fira Gran Via.
Last year, Mobile World Congress (MWC) set an attendance record of 101,000, but that record fell to the 108,000 visitors who were on hand from Feb. 27 to March 2. This year's event drew more than 2,300 exhibitors from 208 countries and territories.
As to what was hot at MWC this year, 5G continued to dominate conversations across vendors' booths, keynotes and panels. Virtual reality demos at MWC were like tapas -- everywhere.
Check out this slideshow for a small slice of Barcelona and MWC. Click on the picture below to start.

Orange Business Services relies on its own IoT analytics platform to enable smart city services.
A new self-serve Ethernet feature from Level 3, Level 3 eLynk, purports to make network connections to the cloud as flexible and agile as the cloud itself.
AT&T views artificial intelligence as the means to do data-powered automation.
Smart cities need software-defined networking to unify networks, data and services.
The results are in for the Telco Transformation cartoon caption contest on artificial intelligence.

In this Telco Transformation radio show, IHS Markit's Michael Howard will talk about the network domains that carriers are targeting for SDN, the top SDN services that are driving revenues and the deployment barriers this year. Howard will also address whether carriers are embracing open source or using vendor-specific implementations.
Monday, September 11, 2017
12 p.m. EDT
This hour-long webinar will provide a presentation and discussion of ONOS YANG Tools, a new Java tool-chain, introduced with ONOS Kingfisher release, and the upcoming support of OpenConfig and OpenROADM models. In this webinar, Thomas Vachuska, chief architect at the Open Networking Foundation, and Anees Shaikh, network architect, Google, will cover the capabilities of the new YANG tool-chain and will discuss the roles OpenConfig models and YANG in general play in managing large networks.
All resources
BCE Keeps Austin Awesome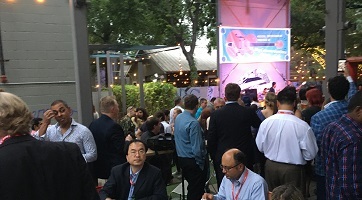 Slideshow archive