Ecosystem Transformation: Open Source
While the adoption of new software-based capabilities is driving communications service providers' ecosystem transformations, not all CSPs are sold on open source.
Earlier this year, Heavy Reading and Huawei Technologies Co. Ltd. published a report that included a survey that went out to Light Reading's global commuication service provider (CSP) registrants. Most CSPs have embarked on their respective ecosystem transformations, which will culminate in a new type of service provider: the cloud-based, agile digital service provider (DSP), according to the report. (See Digital Ecosystems: CSPs Want More, and Ecosystem Transformation: Readiness & Realities.)
More than half of CSPs surveyed are considering running third-party applications in a vendor cloud. In fact, 8% have already implemented this approach, while another 44% are interested and likely to adopt.
By contrast, the rest of the respondents seem less likely to implement this approach. For example, 11% are simply not interested because they want to maintain application and security control, while 38% are only somewhat interested.
SDN and NFV are playing key roles in enabling digital transformations, but some CSPs still question the value of open source. Here's a look at how CSPs view open source as well their take on the merger of their IT and network domains.

— Mike Robuck, Editor, Telco Transformation

ETSI Open Source MANO group has issued Release TWO, which includes improvements to interoperability, performance, stability and security.
Hong Kong incumbent PCCW launches new slate of original content for its Viu OTT service, joining an increasing number of OTT providers who recognize the value of original series.
Chris Rice, senior vice president of AT&T Labs, isn't expecting VNF onboarding to be child's play, but he is hoping for simple processes that can be automated and replicated.
TDC's head of OTT and VoD discusses the operator's services with Telco Transformation.
AT&T's Sarah Obermayer delivered a course at Light Reading's Upskill U on how to move from a dispersed to centralized analytics team.

During this radio show, Adam Dunstan, CenturyLink's vice president of SDN and NFV engineering, will talk about CenturyLink's approach to making its network less complex while adding flexibility and automation.
Thursday, March 16, 2017
12:00 p.m. New York/4:00 p.m. London
The promise of 5G connectivity is a truly Networked Society. 5G is not just about making the throughput larger, it is also about offering use case optimized user experiences and inclusion of new vertical sectors. Use cases predicted for 2020 will need new types of connectivity services that are highly scalable and programmable in terms of speed, capacity, security, reliability, availability, latency and impact on battery type. 5G will need to be an agile, dynamically programmable network that can meet diverse needs with new, as-a-service models on a single infrastructure. In this Webinar, you will learn how the Open Networking Foundation is combining open source and software defined standards through its Open innovation Pipeline to advance innovative architectures such as mobile CORD (M-CORD). M-CORD is being developed by the CORD Project community under ONF's leadership and hosted by The Linux Foundation. Built on the pillars of SDN, NFV and cloud technologies, the end-to-end M-CORD open reference solution is arming operators with the capabilities needed to start planning for the upcoming 5G transition.
All resources
Barcelona Shines During MWC
Slideshow archive
Dissecting 'Mobile-First' Usage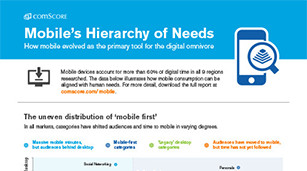 Infographics archive