BARCELONA -- Mobile World Congress 2017 -- Netflix wants to make buffering history, according to CEO Reed Hastings, and the company is innovating at various levels to improve the Internet streaming experience to make it happen. This includes investing at various levels, including improving codec performance, partnering with ISPs and caching content closer to end users.
Hastings was interviewed by BBC Radio Four's Francine Stock during the Day 1 evening keynote session, and asked how Netflix could create a consistent experience for its users streaming video around the world.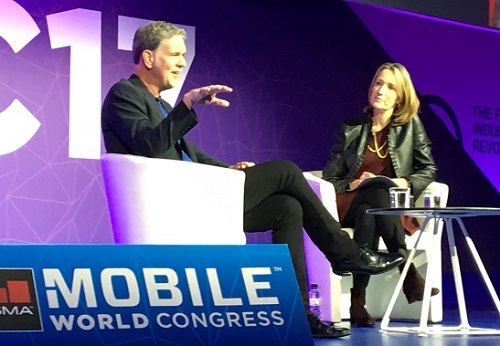 Hastings mentioned the "shhk-shhk" sound that a dial-up modem made, and said that many in the audience may not even be old enough to know that sound, because it is gone now. No one has dial-up connections any longer. He said he wants to make video buffering go the same way, where no one experienced it.
He said that extending Netflix Inc. (Nasdaq: NFLX) to almost 100 million subscribers around the world has helped the company learn a lot, but also the industry collectively has learned a lot. He mentioned YouTube Inc. among others, and said they were all working to make the Internet video streaming experience excellent.
According to Hastings, in ten to 20 years, all video you view will be on the Internet. Netflix will be a "slice" of that, but there will be plenty of other providers. He also said that he is seeing great mobile data usage, particularly in Africa, parts of Asia and the Middle East, where mobile connectivity is outpacing fixed-line deployment.
When asked, Hastings said data caps are limiting the user-experience, but also said these were "the early days of the Internet, and there were lots of things we don't like." But he pointed to some operators who are offering no data cap but a lower data rate, which he feels works out very efficiently. Netflix has been "working on that," and is now offering high-quality streams within "half a meg" for four-to-five inch screens. He says they can get it down to 300 Kbits/s and are hoping to go even lower, below 200 Kbit/s.
This kind of efficiency at the Netflix end will help -- he hopes -- in getting operators to eliminate data caps, and let end users stream as much as they want.
He also feels that viewing video on the mobile screen is a choice -- that some people will always prefer larger screens (he mentioned Peter Morgan, writer of Netflix series The Crown, and also Frost/Nixon, The Damned United and Rush, who was outraged that Hastings watched The Crown on his mobile screen); while others, probably younger viewers, would be more open to other, and at least some of the time, smaller screens. In his opinion, it will always be a mix.
He also talked about pay-TV providers and their initial wariness around Netflix, but pointed to recent deployment on the X1 platform from Comcast Corp. (Nasdaq: CMCSA, CMCSK) and also with Liberty Global Inc. (Nasdaq: LBTY) as a sign that operators were starting to see Netflix as "just one more provider of content."
Indeed, Hastings was clearly trying to position Netflix more as a content provider than a service provider throughout the interview, saying, "We've always wanted to create excellent programming, and distribute it worldwide, all at the same time."
Generally speaking though, Hastings steered clear of any big statements despite Stock's heroic efforts to get something substantial out of him, and instead focused on promoting his upcoming shows in as much detail and as frequently as possible.
To be fair, Netflix just won its first Oscar yesterday for White Helmets, a short documentary on rescue workers in Syria. So let's not grudge him the odd plug.
— Aditya Kishore, Practice Leader, Video Transformation, Telco Transformation