Nearly half the population say they find keeping up with new technologies challenging and 70% fear a widening digital divide, according to new research released by Norwegian operator Telenor Group (Nasdaq: TELN).
CEO Berit Svendsen described these numbers as "alarmingly high." Technology development will not slow down so it is essential to provide more training and information on digitization to society, he says in a statement.
Norway is a highly advanced technology market, where 93% of households have access to the Internet and almost everyone below 65 uses it. But even here there are large demographic differences. For example, only 20% of senior citizens use the mobile Internet compared with approximately two-thirds of the total population.
Fears of an emerging digital divide are also highest among 50- to 79-year-olds, with 81% fearing that such a divide will arise.
Q: Are you afraid that 'a digital class divide' will arise between those people who keep up with digital developments and those who do not?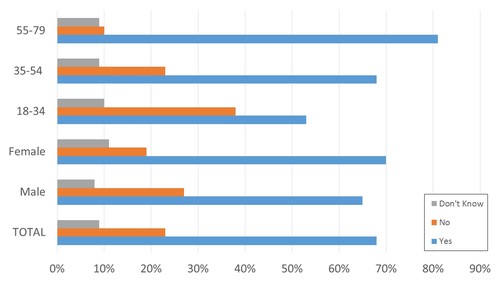 Telenor is running various technology education programs for children and parents to address these concerns, and a national program for beginners and senior citizens designed to develop their Internet skills and comfort level with apps on mobiles and tablets. The operator is also launching a new set of courses for 100 citizens aged more than 65 years.
None of this is particularly surprising -- early adopters of technology have always tended to be young and male. But it's always useful to get data that can provide a more detailed view of trends. These findings also suggest the problem is greater than anticipated. For half of all respondents to find technology challenging is worrisome. The fact that two-thirds of respondents fear an emerging digital divide, and that percentage is maintained among men (65%), is also a concern for the technology industry as a whole. Nor is the digital divide merely driven by economic development or income -- there are additional, significant factors such as age and gender influencing technology adoption.
Most technology companies, and those like us who track technology developments, do tend to focus on new features and technology. We also tend to look more at those who are quick to adopt new services. But there are large sections of society who are almost intimidated by the pace of change, even within advanced economies. Operators, with a local presence and often involvement with local communities, have an advantage with this group, as they are best positioned to wean them on to new technologies and services.
It's also one of the reasons why I feel the demise of pay-TV is far, far away. Even as we strategize about the evolution of OTT apps and services, there is a sizeable percentage of the population that is considerably more comfortable just watching TV.
Note: For more insight into Telenor's research and its plans to create a digital ecosystem, do tune in to our On-The-Air Thursday show later this week, where Mike Robuck will be chatting with Bjørn Taale Sandberg, senior vice president and head of Telenor Research. (See Telenor Sets Sail on Its Digital Journey.)
— Aditya Kishore, Practice Leader, Video Transformation, Telco Transformation