Radio Show Recap: AT&T's ECOMP Defined

During a Thursday radio show on Telco Transformation, AT&T's Chris Rice spoke about his company's ECOMP platform, including the benefits it brings to AT&T in particular and the industry at large.
Carol Wilson, editor-at-large for Light Reading, wrote about what Rice said during the show in regards to the ongoing development of AT&T's Enhanced Control, Orchestration, Management and Policy architecture. (See Can ECOMP Grease the Virtualization Skids?)
Rice, senior vice president of Domain 2.0 Architecture and Design at AT&T Inc. (NYSE: T), talked about the need for a common kernel set of commands for VNFs within ECOMP, and the status of putting ECOMP into open source with the Linux Foundation .
To hear the entire radio show, click here.
Related posts:
— Mike Robuck, Editor, Telco Transformation

10/16/2017
Huawei Network Transformation Seminar
The adoption of virtualization technology and cloud architectures by telecom network operators is now well underway but there is still a long way to go before the transition to an era of Network Functions Cloudification (NFC) is complete.

MEF is working to define, deliver, and certify dynamic communications services that are orchestrated across a global ecosystem of automated, virtualized and interconnected networks. In this radio show, MEF CTO Pascal Menezes talks about the challenges and the solutions that his organization is working on and provides a preview of the MEF17 conference in November.
Thursday, September 21, 2017
12pm EST
Software-defined networking (SDN) is a key component of services providers' virtualization game plans and AT&T and Level 3 Communications have been at the forefront of its adoption.
In this webinar, Andrew Dugan, CTO of Level 3 Communications, and Amy Wheelus, Vice President of Cloud and D2 Platform Integration at AT&T, will discuss how their companies have leveraged SDN within their networks, services and applications. Some of the key areas that will be covered include:
Automation, APIs and lifecycle service orchestration
The continued evolution of SDN-based solutions and SDN in networks, including SD-WAN, dynamic cloud connections and scalable Ethernet and security solutions.
All resources
NFV/SDN: Summit Ascent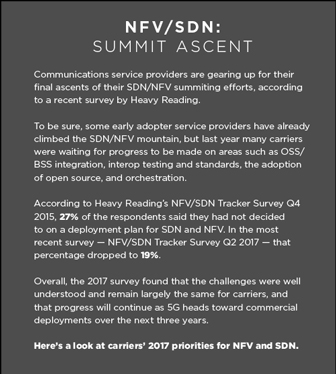 Infographics archive