Not surprisingly, the Achilles' heel for the Internet of Things is security, according to the results of two polls by Telco Transformation.
When asked: "What is the biggest challenge of IoT to your business?" in a recent Telco Transformation webinar, "security" garnered the most votes at 53%. In a similar flash poll on Telco Transformation, security pulled away from the field with 56% of the votes to also finish in first place.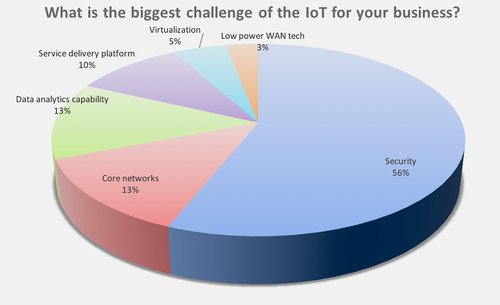 "That's not surprising there," said Verizon's Mark Bartolomeo, vice president of connected solutions and Internet of Things, when he saw the webinar poll results. "I think you can't do too much when it comes to security. As we're adding more and more nodes onto the network we see that as providing more and more opportunities to improve security."
Bartolomeo said during the webinar that Verizon Communications Inc. (NYSE: VZ) was addressing IoT security with managed certificate services and IoT credentialing.
"We're now seeing that security is being built into the devices," he said. "I think in the past devices were being put out there that didn't have these certificates and these credentialing capabilities. Now that's being designed and that's an advantage today with the way IoT is being approached as a connectivity platform and application solution set rather than just the device as a separate component."
"Core network" and "data analytics capability" both placed second in the Telco Transformation poll at 13%, while "core network" and "service delivery platform" tied for second at 29% on the webinar poll.
"Virtualization" scored around 5% in both polls while "low power wide area wireless technology" finished at 12% in the webinar poll and a meager 3% on the TT poll.
"I guess I'm somewhat surprised by the 'low power wide area' one because I think that it may not be a technology issue from the network providers perspective, but I think it's a huge problem from the enterprise perspective in terms of what do they actually choose," said Heavy Reading Senior Analyst Steve Bell, in regards to the webinar poll results. "There's going to be a lot of confusion out there, which I think is going to cause some slowing of adoption."
— Mike Robuck, Editor, Telco Transformation