Boosted by virtual customer premise equipment (CPE) working in tandem with NFV and SDN, managed security service revenue will grow by more than one third over the next five years, according to a recent report.
Managed security service global revenue totaled $17.4 billion last year, which was a 9% increase from 2014, according to a report by IHS Inc. The report also said that 54% of the security revenue in 2015 came from CPE-based services while cloud-based offerings chipped in 45%. IHS's report said the script would flip by 2020 with cloud-based offerings overtaking CPE-based services.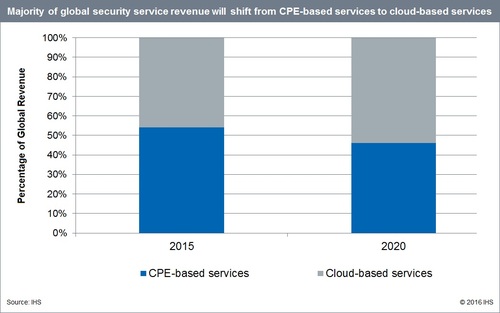 Managed security providers are joining the trend of using SDN, NFV and network virtualization, which will lead to continued growth in CPE revenues, according to the IHS report.
"SDN deployments in cloud and hosting environments will help providers build more scalable, flexible and profitable hosted and cloud security services," said Jeff Wilson, cyber security research director for IHS Technology. "The availability of a new generation of virtual CPE services driven by NFV will enable carriers to deliver services to the customer edge on a common hardware platform capable of running virtual machines. While common wisdom says the transition to the cloud and cloud services for security will overwhelm CPE, there's still a play for on-premises services, even in a virtualized world."
During Light Reading's Next Gen Technologies & Strategies conference in Denver earlier this month, a panel of industry experts talked about how SDN will play a key role for virtualized CPE. (See SDN's Second Act: What It Means for Cable.)
The IHS report also said that sales of cloud-based security services grew 12% in 2015 from the prior year, and the segment was expected to grow at a compound annual growth rate (CAGR) of 9% from 2015 to 2020.
The biggest contributor to cloud-based security service revenue was content security, followed by managed firewall services, other security services, distributed denial of service (DDoS) mitigation and intrusion detection and prevention systems.
"The majority of providers IHS tracks either met or exceeded their revenue expectations for the year," Wilson said. "The long-term outlook for this market -- especially for cloud services -- is strong."
— Mike Robuck, Editor, Telco Transformation