It seems our industry might have a collective blind spot when it comes to the impact that white box technology might have on communication service providers' businesses in the coming years.
That's one takeaway from the results of this week's poll, which asked: "Which new comms technology will have the greatest impact on service providers' businesses over the next decade?"
This was the very same poll that Light Reading CEO and Founder Steve Saunders asked recently at the Digital Operations Summit in Barcelona, Spain the day before Mobile World Congress started.
And it's the exact same result for "white box networking," which failed to garner any votes in our poll and also failed to attract a single vote from a roomful of industry thought leaders and innovators during the Barcelona summit. (See AT&T's Donovan Touts White Box Networking.)
The result of that Barcelona poll surprised Saunders and also drew a reaction from AT&T Inc. (NYSE: T) chief strategy officer and group president John Donovan, who said he would have put white box networking first.
It was for that reason we though it would be interesting to pose the same poll on Telco Transformation for comparison's sake and it's interesting to note that white box networking once again failed to register.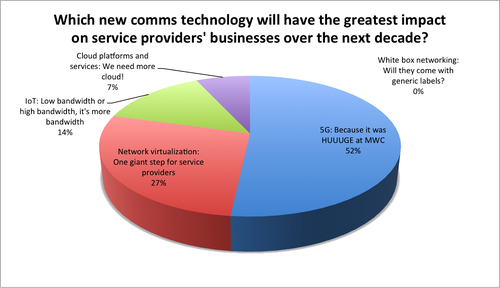 The winner in the Telco Transformation poll was "5G" with 52% of the vote, followed by "network virtualization" with 27%. Internet of Things placed third at 14% while cloud platforms and services managed to earn 7% of the votes.
The results from the transformation poll in Barcelona were: cloud platforms and services (44%), network virtualization (29%), IoT (21%), and in second to last place, 5G (6%).
Donovan said service providers needed to do cloud platforms and services first, followed by network virtualization, which lead to the big prize of white box networking. Once those three elements are in place, 5G and IoT are services that can run on top of the new network. (See AT&T's Donovan Talks Virtualization in Barcelona.)
— Mike Robuck, editor, Telco Transformation