AT&T's John Donovan said white box networking was the "big prize" for his company during Sunday's Digital Operations Transformation Summit.
Donovan, AT&T's chief strategy officer and group president, outlined how AT&T implemented several key networking steps ahead of more white box deployments this year during a "fireside chat" with Light Reading founder and CEO Stephen Saunders.
There's a literal payoff for using generic, off-the-shelf, or white box, switches and routers. While white box switches and routers don't have the built-in intelligence of traditional switches and routers, they come with much cheaper price tags. Using SDN, white boxes can be adapted to meet a service provider's specific needs.
In an audience poll, white box networking received a grand total of zero votes from the attendees at Huawei's summit the day before the official start of Mobile World Congress in Barcelona, Spain. By contrast, Donovan said white box networking was the big payoff after implementing several other choices in the poll.
"For us, this is the year [for white box networking]," Donovan said. "Last year we looked at white box networking and we built out 74 zones. This year we'll be up to 105, or 108 network zones."
Donovan said the network zones were white box networking nodes in AT&T's network.
"This is the year that everything starts to land on our integrated cloud, which we call our AIC, or AT&T Integrated Cloud," Donovan said. (See AT&T's Chiosi: Unite on Open Source or Suffer.)
Saunders's poll asked "Which new comms technology will have the greatest impact on service providers' businesses over the next decade?" The choices were and vote results from the packed conference room included: 5G (6% of the vote); network virtualization (29%); cloud platforms and services (44%); white box networking (no votes); and IoT (21%.)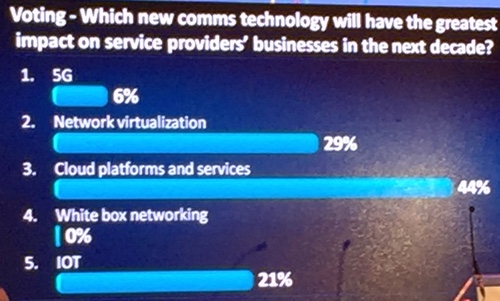 "You can't get to white box networking unless you've done network virtualization," Donovan explained. "You can't do network virtualization until you march down the path of cloud platform and services. Then when you finish those two the big prize is now you jump to white box networking."
Once AT&T Inc. (NYSE: T) has deployed white box networking, services such as 5G and IoT "don't seem like such a big deal," Donovan said. "Those are services that just sit on top."
With cloud platforms and services being the first step, Donovan said service providers need to "earn your stripes, earn your scars, figure out how things work and have your debates."
"Figure out how our cultural problems sit," Donovan added. "Learn the business cases and then move on to network virtualization."
With the cloud, Donovan said service providers should start with data centers and then move to the central offices. Once virtualization is completed, the table is set for white box networking.
"I want all of the stuff on a standard hardware package," he said. "You're not going to get it down to one standard template, but you might have four templates, or six templates. Those are the things we're debating now."
— Mike Robuck, editor, Telco Transformation