AUSTIN, Texas -- Big Communications Event -- Over the last decade, the number of Facebook postings has grown immensely, and with additional features added like video and focus on the immersed experience, Facebook is increasingly focusing on network infrastructure, explained Facebook's Hans-Juergen Schmidtke during his BCE keynote this morning.
"What does it really mean for us at Facebook? That we need to provide some of the infrastructure behind it," said Schmidtke, director of the Engineering and Infrastructure Foundation at Facebook , during the keynote. "Predominantly we're building data centers... to give perspective, one of those data center buildings is as long as the Empire State Building is high."
During the session, "TIP & Facebook: Telecom Infra for a More Connected World," Schmidtke discussed Facebook's collaboration with the telecom industry to drive innovation of new technologies and design networks of the future. Facebook recognized that in many areas -- including 3 million people in Uganda -- individuals don't have Internet access and in addition, awareness and affordability is a barrier to access.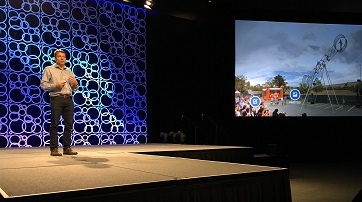 To dive deeper into the root of that problem, Facebook examined population density maps to identify where groups without Internet access live, where there's connectivity and where it's missing. Connecting the world requires a huge ecosystem and a variety of technologies, said Schmidtke, which was one of the motivations behind Facebook's goal of building open communities.
Fiber for point to point is most effective for high bandwidth, said Schmidtke, as well as wireless technologies, predominantly in mmWave wireless.
"There are a variety of technologies we're looking at right now that allow us to drive this connectivity paradigm into application spaces that we believe were mostly neglected in the last years or decades," he said.
In February 2016, Facebook announced the Telecom Infra Project (TIP), co-founded in conjunction with SK Telecom, Deutsche Telekom, Nokia and Intel, to drive connectivity and "build a wider ecosystem of finance, startup and operators moving forward."
TIP now has 450 members and three areas of focus -- or TIP Project Groups -- including Access, Backhaul and Core and Management. Schmidtke emphasized the importance of bringing multiple organizations together, and one example is under the TIP People and Process Group which focuses on sharing and developing best practices in culture and process transformation to improve operators' key metrics.
The TIP Ecosystem Acceleration Center expands on the idea of bringing startups together with operators, system integrators, infrastructure providers and other technology companies to foster a spirit of innovation and entrepreneurship to re-think the traditional model of creating and deploying telecom infrastructure. Schmidtke said the traditional model telcos operated under was characterized by lengthy periods of development that bred stagnation and it's time to "reverse that stagnation."
The communications industry must deal with a fundamental question of how we consume and deal with technology and innovation, said Schmidtke. He gave the example of the challenge of disaggregation -- the separation between hardware and software -- and noted that a Common API (C-API) is key to this process.
TIP's Open Optical Packet Transport (OOPT) recently fully submitted Voyager to TIP -- Schmidtke said Voyager is the industry's first white box switch, router and transport solution. Field trials of Voyager were conducted successfully with Equinix, Telia and MTN, and a trial with Orange is underway. Voyager was built and went to trial within six months and can be used in high-scalable data center environments.
It takes a global ecosystem to connect the world, said Schmidtke, and this process takes great effort and can't be accomplished by just one company.
— Kelsey Kusterer Ziser, Senior Editor, Light Reading