Open CORD Project Paves the Way for 5G Innovation
Date:
Thursday, March 16, 2017
Time:
12:00 p.m. New York/4:00 p.m. London

Speakers
The promise of 5G connectivity is a truly Networked Society. 5G is not just about making the throughput larger, it is also about offering use case optimized user experiences and inclusion of new vertical sectors. Use cases predicted for 2020 will need new types of connectivity services that are highly scalable and programmable in terms of speed, capacity, security, reliability, availability, latency and impact on battery type. 5G will need to be an agile, dynamically programmable network that can meet diverse needs with new, as-a-service models on a single infrastructure. In this Webinar, you will learn how the Open Networking Foundation is combining open source and software defined standards through its Open innovation Pipeline to advance innovative architectures such as mobile CORD (M-CORD). M-CORD is being developed by the CORD Project community under ONF's leadership and hosted by The Linux Foundation. Built on the pillars of SDN, NFV and cloud technologies, the end-to-end M-CORD open reference solution is arming operators with the capabilities needed to start planning for the upcoming 5G transition.
Mike Robuck, Editor, Telco Transformation


Mike Robuck is the Editor of Telco Transformation. He has a long history of reporting on the telecom and cable sectors on topics such as SDN, NFV, cloud, wireless and OTT, for publications such as CED Magazine, Communications Technology and Boardwatch. He also reported on high school sports for The Rocky Mountain News, a sure sign that he is destined for some sort of Nobel prize. Mike is based in Montrose, Colorado.
close this window
Paul Smith, Director Member Technical Staff at AT&T


Paul Smith is a Director Member Technical Staff at AT&T, responsible for the RAN Target Architecture and driving industry adoption of 5G / Software Defined RAN with open APIs that fit into AT&T Network 3.0 Indigo Architecture including newly open-sourced ONAP (Open Network Automation Platform). Prior positions at AT&T include Director of Emerging Devices Organization responsible for driving Emerging Application Strategy and Lead Principal Technical Architect –responsible for the Mobile Packet Core target architecture.
close this window
Larry Peterson, CTO, Open Networking Lab/Open Networking Foundation


Larry Peterson is the CTO at Open Networking Lab/Open Networking Foundation, and Chief Architect of the CORD project. He is also the Robert E. Kahn Professor of Computer Science, Emeritus at Princeton University. While at Princeton, he served as Chair from 2003-2009, led work on the widely used PlantLab and MeasurementLab platforms, and spun out a CDN technology startup that was subsequently acquired by Akamai.

Peterson is a member of the National Academy of Engineering, a Fellow of the ACM and the IEEE, the 2010 recipient of the IEEE Kobayashi Computer and Communication Award, and the 2013 recipient of the ACM SIGCOMM Award. He received his Ph.D. degree from Purdue University in 1985.
close this window
Dr. Oguz Sunay, Chief Architect for M-CORD, ON.Lab


Oguz Sunay is the Chief Architect for M-CORD at ON.Lab and also the CTO at Argela-USA. He is the architect for Programmable Radio Access Network Architecture (ProgRAN) for 5G based on SDN and Network Virtualization. The architecture enables dynamically programmable RAN slicing, end-to-end network slicing as well as programmable link aggregation.

Dr. Sunay has held prior positions in academia at Koc University and Ozyegin University as well as in industry at Bell Labs, and Nokia. He holds over 25 patents on 3G and 4G and has over 20 patent applications on the ProgRAN architecture. He received his Ph.D. and M.Sc. from Queen's University, Canada and his B.Sc. from METU, Turkey.
close this window


Webinar Archive Registration
To register for this webinar, please complete the form below. Take care to provide all required information (indicated in
red
). Press
Register
to complete your registration. If you have already registered for our site or for one of our webinars, you may
login
to register without re-entering your information.

Orange Business Services relies on its own IoT analytics platform to enable smart city services.
A new self-serve Ethernet feature from Level 3, Level 3 eLynk, purports to make network connections to the cloud as flexible and agile as the cloud itself.
AT&T views artificial intelligence as the means to do data-powered automation.
Smart cities need software-defined networking to unify networks, data and services.
The results are in for the Telco Transformation cartoon caption contest on artificial intelligence.

In this Telco Transformation radio show, IHS Markit's Michael Howard will talk about the network domains that carriers are targeting for SDN, the top SDN services that are driving revenues and the deployment barriers this year. Howard will also address whether carriers are embracing open source or using vendor-specific implementations.
Monday, September 11, 2017
12 p.m. EDT
This hour-long webinar will provide a presentation and discussion of ONOS YANG Tools, a new Java tool-chain, introduced with ONOS Kingfisher release, and the upcoming support of OpenConfig and OpenROADM models. In this webinar, Thomas Vachuska, chief architect at the Open Networking Foundation, and Anees Shaikh, network architect, Google, will cover the capabilities of the new YANG tool-chain and will discuss the roles OpenConfig models and YANG in general play in managing large networks.
All resources
BCE Keeps Austin Awesome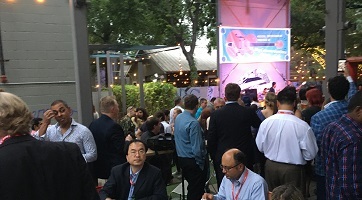 Slideshow archive