Analyst Sherrie Huang from Analysys Mason discusses with Huawei the role that operators will play and the opportunities that operators will seize in the video industry, exploring the strategic transformation model for operators' success in video business. The primary driving forces of operators' video business are the subscriber maintenance and differentiated service. Operators are developing video service actively as one of their key strategies. Video is becoming the basic service of operators.

In the third part of this Q&A, ODL's Caywood talked about the evolution of software-defined networking and northbound APIs.
US communications regulator kicks off the rulemaking process for ATSC 3.0, a new broadcast standard enabling localized broadcasts, better accessibility options and data casting.
Combing OPEN-O and ECOMP into ONAP should bring more harmony to the MANO sector.
The latest State of the Industry: Mobile Video Report from AOL found that the mobile screen is set to dominate video viewing, and that the large majority of users say they can't live without their smartphones.
NFV presents an opportunity to breathe new life into OSS.

In this Telco Transformation radio show, James Crawshaw, Senior Analyst – OSS/BSS Transformation, Heavy Reading, will discuss the challenges and opportunities around re-creating OSS in a virtualized world.
Thursday, March 16, 2017
12:00 p.m. New York/5:00 p.m. London
The promise of 5G connectivity is a truly Networked Society. 5G is not just about making the throughput larger, it is also about offering use case optimized user experiences and inclusion of new vertical sectors. Use cases predicted for 2020 will need new types of connectivity services that are highly scalable and programmable in terms of speed, capacity, security, reliability, availability, latency and impact on battery type. 5G will need to be an agile, dynamically programmable network that can meet diverse needs with new, as-a-service models on a single infrastructure. In this Webinar, you will learn how the Open Networking Foundation is combining open source and software defined standards through its Open innovation Pipeline to advance innovative architectures such as mobile CORD (M-CORD). M-CORD is being developed by the CORD Project community under ONF's leadership and hosted by The Linux Foundation. Built on the pillars of SDN, NFV and cloud technologies, the end-to-end M-CORD open reference solution is arming operators with the capabilities needed to start planning for the upcoming 5G transition.
All resources
No Linear Please, We're Millennial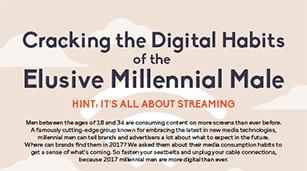 Infographics archive