The Future of Virtualization: NFV Rising
After hitting a lull last year, communication service providers' virtualization plans are on an upswing in 2017, according to the most recent Heavy Reading virtualization report.
According to the survey, which was based on the results from 40 communications service providers (CSPs) around the world, the overall virtualization planning process is progressing this year after a lack of planning in 2016 led to delays in deployments.
The twice-yearly survey, which is part of Light Reading's Virtuapedia initiative, tracks CSPs' virtualization progress across three areas; planning, spending and deployment. The CSPs that took part in the Heavy Reading survey "Future of Virtualization: The Force (Finally) Awakens" expressed more confidence in meeting timetables and deploying high-priority network functions going forward.

— Mike Robuck, Editor, Telco Transformation

Early detection of security risks at the entry point minimizes loss and speeds up detection.
SD-WAN has room to grow, according to a panel at the MEF17 conference.
During his keynote address at MEF17, Verizon's Eric Cevis said the industry needs to continue to develop standards.
Carriers need to get on the digital transformation bandwagon or risk their customers going to other service providers.
MEF 3.0 specifications will enable agile, orchestrated services at a much faster rate by creating a new ecosystem.
10/16/2017
Huawei Network Transformation Seminar
The adoption of virtualization technology and cloud architectures by telecom network operators is now well underway but there is still a long way to go before the transition to an era of Network Functions Cloudification (NFC) is complete.

MEF is working to define, deliver, and certify dynamic communications services that are orchestrated across a global ecosystem of automated, virtualized and interconnected networks. In this radio show, MEF CTO Pascal Menezes talks about the challenges and the solutions that his organization is working on and provides a preview of the MEF17 conference in November.
Thursday, September 21, 2017
12pm EST
Software-defined networking (SDN) is a key component of services providers' virtualization game plans and AT&T and Level 3 Communications have been at the forefront of its adoption.
In this webinar, Andrew Dugan, CTO of Level 3 Communications, and Amy Wheelus, Vice President of Cloud and D2 Platform Integration at AT&T, will discuss how their companies have leveraged SDN within their networks, services and applications. Some of the key areas that will be covered include:
Automation, APIs and lifecycle service orchestration
The continued evolution of SDN-based solutions and SDN in networks, including SD-WAN, dynamic cloud connections and scalable Ethernet and security solutions.
All resources
NFV/SDN: Summit Ascent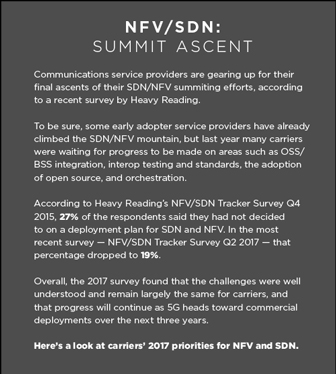 Infographics archive