Climbing the SDN/NFV Mountain
While most service providers are still in the early days of their SDN and NFV planning or proof-of-concept trials, there are lessons to be learned from the carriers that are further down the virtualization path.
According to a recent report by STL Partners, the majority of the 14 service provider participants were actively looking into virtualization and starting to develop new services.
To overcome some of the SDN and NFV hurdles listed below, STL had several suggestions.
Service providers that have achieved scaled virtualized services and functions to date did so by focusing on clear business cases for the new services versus the legacy services.

Carriers need to educate customers on how virtualized services will benefit them -- including scalability, on-demand availability and flexibility -- while understanding the potential impact they could have on customers' internal processes, such as procurement and finance.

As SDN and NFV break down traditional service provider silos, a steering committee needs to be established that includes network, cloud, IT and enterprise representatives. This committee should come up with the high-level blueprint for virtualizing the network.

For the digital transformations to take place, senior management support and understanding is critical for SDN and NFV implementations. (A prime example would be John Donovan, chief strategy officer and group president -- AT&T Technology and Operations.)

Embracing a DevOps mindset becomes critical once SDN and NFV have started to blur the lines between employee roles and function areas. Using a DevOps model would also aid the cultural transformations that need to take place when carriers move to SDN and NFV.
Here's a look at some of the current hurdles to deploying SDN and NFV as well as three ways to spur adoption of both.

— Mike Robuck, Editor, Telco Transformation

Huawei's TestCraft platform was designed to simplify NFV and SDN testing for carriers.
Level 3's Travis Ewert espouses the benefits of NFV automation to both the organization and the worker – assuming IT gets the culture piece right.
Bill Walker addresses key issues for deploying NFV, including the need for both IT and telco employees to come to terms on common goals.
ETSI research specialist Joan Triay provides an update on what ETSI was up to in Denver recently, what to expect at the next round of ETSI NFV Plugtests and the challenges it faces with security integration.
AT&T's Amy Wheelus talks about the telco's use of SDN and automation in this Q&A.

In this Telco Transformation radio show, IHS Markit's Michael Howard will talk about the network domains that carriers are targeting for SDN, the top SDN services that are driving revenues and the deployment barriers this year. Howard will also address whether carriers are embracing open source or using vendor-specific implementations.
Thursday, September 21, 2017
12pm EST
Software-defined networking (SDN) is a key component of services providers' virtualization game plans and AT&T and Level 3 Communications have been at the forefront of its adoption.
In this webinar, Andrew Dugan, CTO of Level 3 Communications, and Amy Wheelus, Vice President of Cloud and D2 Platform Integration at AT&T, will discuss how their companies have leveraged SDN within their networks, services and applications. Some of the key areas that will be covered include:
Automation, APIs and lifecycle service orchestration
The continued evolution of SDN-based solutions and SDN in networks, including SD-WAN, dynamic cloud connections and scalable Ethernet and security solutions.
All resources
BCE Keeps Austin Awesome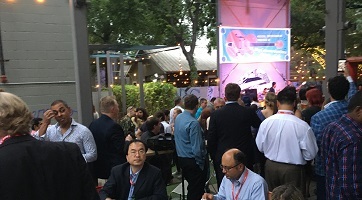 Slideshow archive