Connected devices play an increasingly important role in today's economies, where a growing number of devices are used by individuals for both work and play. Tracking these devices and their market penetration is important for service providers and enterprises, to help develop their own service strategies.
A useful tool is the Consumer Technology Association's (CTA)
Extended Forecasts report
, produced twice a year. It provides data and projections for a variety of electronics devices shipped in the US. (See
CTA Unveils 2017 Forecasts for Key Consumer Technology Categories
.) The report is based on data collected from CTA member companies. The infographic below provides 2017 unit shipment forecasts for a number of key device categories, along with revenue estimates and growth rates. According to the CTA, total US consumer technology revenue will reach a record high, at $292.5 billion, 1.5% higher than 2016. Smartphones will contribute $55.6 billion, followed by digital displays (mostly Ultra HD TV sets) at $19 billion, vehicle technology at $17 billion and tablets at $16.4 billion.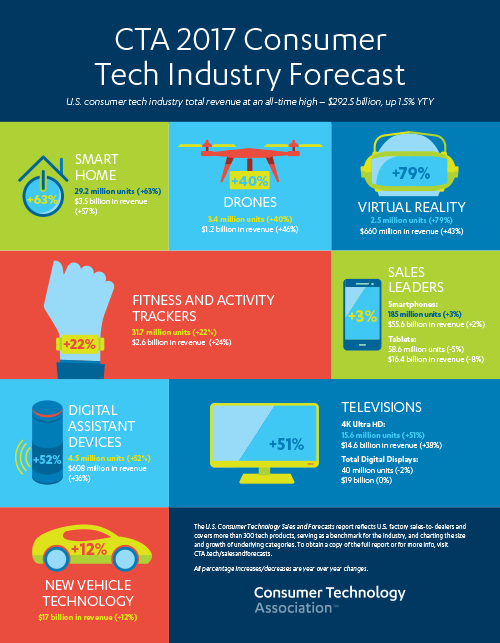 — Aditya Kishore, Practice Leader, Video Transformation, Telco Transformation