US Consumer Tech to Generate $292.5B in 2017
Connected devices play an increasingly important role in today's economies, where a growing number of devices are used by individuals for both work and play. Tracking these devices and their market penetration is important for service providers and enterprises, to help develop their own service strategies.
A useful tool is the Consumer Technology Association's (CTA)
Extended Forecasts report
, produced twice a year. It provides data and projections for a variety of electronics devices shipped in the US. (See
CTA Unveils 2017 Forecasts for Key Consumer Technology Categories
.) The report is based on data collected from CTA member companies. The infographic below provides 2017 unit shipment forecasts for a number of key device categories, along with revenue estimates and growth rates. According to the CTA, total US consumer technology revenue will reach a record high, at $292.5 billion, 1.5% higher than 2016. Smartphones will contribute $55.6 billion, followed by digital displays (mostly Ultra HD TV sets) at $19 billion, vehicle technology at $17 billion and tablets at $16.4 billion.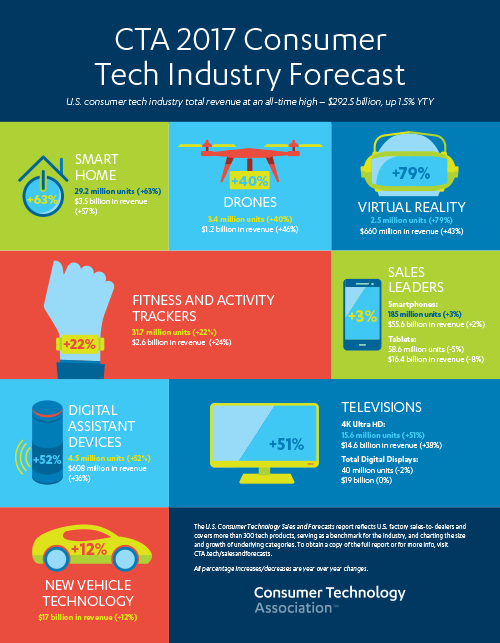 — Aditya Kishore, Practice Leader, Video Transformation, Telco Transformation

Sudhanshu Vats, group CEO of Indian broadcast and video conglomerate Viacom 18, shares his thoughts on AR/VR and artificial intelligence.
ETSI Open Source MANO group has issued Release TWO, which includes improvements to interoperability, performance, stability and security.
Hong Kong incumbent PCCW launches new slate of original content for its Viu OTT service, joining an increasing number of OTT providers who recognize the value of original series.
Chris Rice, senior vice president of AT&T Labs, isn't expecting VNF onboarding to be child's play, but he is hoping for simple processes that can be automated and replicated.
TDC's head of OTT and VoD discusses the operator's services with Telco Transformation.

During this radio show, Adam Dunstan, CenturyLink's vice president of SDN and NFV engineering, will talk about CenturyLink's approach to making its network less complex while adding flexibility and automation.
Thursday, March 16, 2017
12:00 p.m. New York/4:00 p.m. London
The promise of 5G connectivity is a truly Networked Society. 5G is not just about making the throughput larger, it is also about offering use case optimized user experiences and inclusion of new vertical sectors. Use cases predicted for 2020 will need new types of connectivity services that are highly scalable and programmable in terms of speed, capacity, security, reliability, availability, latency and impact on battery type. 5G will need to be an agile, dynamically programmable network that can meet diverse needs with new, as-a-service models on a single infrastructure. In this Webinar, you will learn how the Open Networking Foundation is combining open source and software defined standards through its Open innovation Pipeline to advance innovative architectures such as mobile CORD (M-CORD). M-CORD is being developed by the CORD Project community under ONF's leadership and hosted by The Linux Foundation. Built on the pillars of SDN, NFV and cloud technologies, the end-to-end M-CORD open reference solution is arming operators with the capabilities needed to start planning for the upcoming 5G transition.
All resources
Barcelona Shines During MWC
Slideshow archive
Dissecting 'Mobile-First' Usage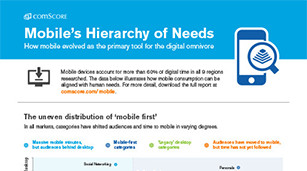 Infographics archive