Digital Transformations: Evolution
Communications service providers of all shapes and sizes are undergoing an evolution of their network architectures in order to become more agile and to better serve their customers with web-scale operations and services.
The big challenges for communications service providers' digital transformations are the legacy infrastructures that have been built up layer-by-layer over many years. While hybrid networks are the short-term goal for CSPs, they want to rebuild their architectures by virtualizing network elements to take advantage of cloud-native operations.
A recent report by Heavy Reading , which was sponsored by Huawei Technologies Co. Ltd. , outlined the elements of CSPs' digital transformation journeys and identified five key pillars to the evolutionary process.
— Mike Robuck, Editor, Telco Transformation

Hong Kong incumbent PCCW launches new slate of original content for its Viu OTT service, joining an increasing number of OTT providers who recognize the value of original series.
Chris Rice, senior vice president of AT&T Labs, isn't expecting VNF onboarding to be child's play, but he is hoping for simple processes that can be automated and replicated.
TDC's head of OTT and VoD discusses the operator's services with Telco Transformation.
AT&T's Sarah Obermayer delivered a course at Light Reading's Upskill U on how to move from a dispersed to centralized analytics team.
Kwesé's Joseph Hundah explains the challenges with billing and payments in Africa, and how the operator's innovative approach helped convince Netflix to launch in the continent.

During this radio show, Adam Dunstan, CenturyLink's vice president of SDN and NFV engineering, will talk about CenturyLink's approach to making its network less complex while adding flexibility and automation.
Thursday, March 16, 2017
12:00 p.m. New York/4:00 p.m. London
The promise of 5G connectivity is a truly Networked Society. 5G is not just about making the throughput larger, it is also about offering use case optimized user experiences and inclusion of new vertical sectors. Use cases predicted for 2020 will need new types of connectivity services that are highly scalable and programmable in terms of speed, capacity, security, reliability, availability, latency and impact on battery type. 5G will need to be an agile, dynamically programmable network that can meet diverse needs with new, as-a-service models on a single infrastructure. In this Webinar, you will learn how the Open Networking Foundation is combining open source and software defined standards through its Open innovation Pipeline to advance innovative architectures such as mobile CORD (M-CORD). M-CORD is being developed by the CORD Project community under ONF's leadership and hosted by The Linux Foundation. Built on the pillars of SDN, NFV and cloud technologies, the end-to-end M-CORD open reference solution is arming operators with the capabilities needed to start planning for the upcoming 5G transition.
All resources
Barcelona Shines During MWC
Slideshow archive
Dissecting 'Mobile-First' Usage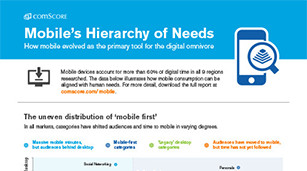 Infographics archive