When in Rome... Virtualize, Digitize & Transform!
ROME -- 2020 Vision Executive Summit -- Light Reading's 2020 Vision Executive Summit is a unique event, with an exclusive list of industry experts and visionaries and a structure and format that is specially designed to drive engagement and contributions from the audience.
The 2016 event in Rome last week was the third time we have held the summit, and included 125 executive experts from leading service providers and vendors around the world. The event included discussions on virtualization, new approaches in an era of software-driven functionality, the evolution and market-readiness of 5G networks, selecting the right open source approach and a whole host of other issues critical to the future of service providers.
As always, it was intense, productive and yeah, the food was pretty good too.
Curious? Just click on the image below to see what went on.

Matherson breaks down the opportunities and the obstacles that businesses face when moving to enterprise cloud.
Data and measurement company comScore just released its 2017 US Cross-Platform Future in Focus report. Findings include key trends in mobile media consumption.
CenturyLink eschews ONOS' CORD by developing its own version for its residential and business DSL customers.
SD-WAN is booming, according to an IHS Markit report.
This month's cartoon caption contest focuses on artificial intelligence.

In this Telco Transformation Radio show, Rob Koenen, President of the VRIF, joins us to discuss key developments, remaining challenges in VR, and the role of the VRIF in helping the development of an incredibly exciting technology.
Thursday, March 16, 2017
12:00 p.m. New York/4:00 p.m. London
The promise of 5G connectivity is a truly Networked Society. 5G is not just about making the throughput larger, it is also about offering use case optimized user experiences and inclusion of new vertical sectors. Use cases predicted for 2020 will need new types of connectivity services that are highly scalable and programmable in terms of speed, capacity, security, reliability, availability, latency and impact on battery type. 5G will need to be an agile, dynamically programmable network that can meet diverse needs with new, as-a-service models on a single infrastructure. In this Webinar, you will learn how the Open Networking Foundation is combining open source and software defined standards through its Open innovation Pipeline to advance innovative architectures such as mobile CORD (M-CORD). M-CORD is being developed by the CORD Project community under ONF's leadership and hosted by The Linux Foundation. Built on the pillars of SDN, NFV and cloud technologies, the end-to-end M-CORD open reference solution is arming operators with the capabilities needed to start planning for the upcoming 5G transition.
All resources
Barcelona Shines During MWC
Slideshow archive
ECN: What's Hot for Cloud Skills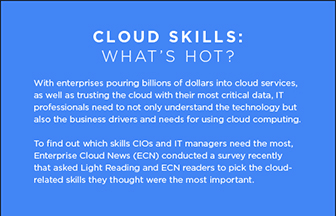 Infographics archive