When in Rome... Virtualize, Digitize & Transform!
ROME -- 2020 Vision Executive Summit -- Light Reading's 2020 Vision Executive Summit is a unique event, with an exclusive list of industry experts and visionaries and a structure and format that is specially designed to drive engagement and contributions from the audience.
The 2016 event in Rome last week was the third time we have held the summit, and included 125 executive experts from leading service providers and vendors around the world. The event included discussions on virtualization, new approaches in an era of software-driven functionality, the evolution and market-readiness of 5G networks, selecting the right open source approach and a whole host of other issues critical to the future of service providers.
As always, it was intense, productive and yeah, the food was pretty good too.
Curious? Just click on the image below to see what went on.

Verizon is achieving improved efficiencies in its cloud operations by implementing web-scale operations.
SDN has evolved from its early days of inception, which is reflected in this Telco Transformation poll.
McRae talks about how BT is tapping into common service models and machine learning.
Orange is working with Colt, AT&T, TM Forum and MEF to standardize SDN for interoperability across networks.
BT's chief network architect talks about how SDN is a critical piece of his company's automation plans.

In this Telco Transformation radio show, IHS Markit's Michael Howard will talk about the network domains that carriers are targeting for SDN, the top SDN services that are driving revenues and the deployment barriers this year. Howard will also address whether carriers are embracing open source or using vendor-specific implementations.
Monday, September 11, 2017
12 p.m. EDT
This hour-long webinar will provide a presentation and discussion of ONOS YANG Tools, a new Java tool-chain, introduced with ONOS Kingfisher release, and the upcoming support of OpenConfig and OpenROADM models. In this webinar, Thomas Vachuska, chief architect at the Open Networking Foundation, and Anees Shaikh, network architect, Google, will cover the capabilities of the new YANG tool-chain and will discuss the roles OpenConfig models and YANG in general play in managing large networks.
All resources
BCE Keeps Austin Awesome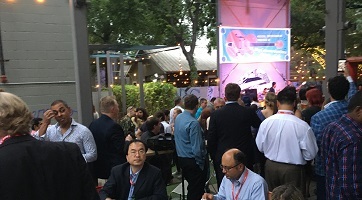 Slideshow archive