DevOps Goes Mainstream
The combination of rapid innovation in service provider networks and increased new service demands by customers is driving the change to a DevOps approach for developing new products, creating unified company cultures and prioritizing operational processes. A new report finds DevOps practices are now widely understood within telecom.
Instead of development and operational teams operating in their own fiefdoms, DevOps creates cross-disciplinary groups that work together from the inception of a new product or service all the way through its lifecycle. (See DevOps: AT&T's Saxena on Building a 'One-Team Culture'.)
DevOps speeds up the delivery of the entire product cycle while also improving quality, security, profitability and measurable outcomes, according to the recent DevOps report by Puppet and DORA. For this year's report, Puppet Labs and DORA surveyed more than 4600 technical professionals from around the world.
"DevOps is no longer a mere fad or buzzword, but an understood set of practices and cultural patterns," was one of the main conclusions reached in the report.
Other DevOps benefits in the report included 22% less time spent on unplanned work and "rework" by "high performing" organizations, which then had 29% more time for new tasks. Those same organizations spent 50% less time fixing security issues than the low performers.

— Mike Robuck, Editor, Telco Transformation

ETSI Open Source MANO group has issued Release TWO, which includes improvements to interoperability, performance, stability and security.
Hong Kong incumbent PCCW launches new slate of original content for its Viu OTT service, joining an increasing number of OTT providers who recognize the value of original series.
Chris Rice, senior vice president of AT&T Labs, isn't expecting VNF onboarding to be child's play, but he is hoping for simple processes that can be automated and replicated.
TDC's head of OTT and VoD discusses the operator's services with Telco Transformation.
AT&T's Sarah Obermayer delivered a course at Light Reading's Upskill U on how to move from a dispersed to centralized analytics team.

During this radio show, Adam Dunstan, CenturyLink's vice president of SDN and NFV engineering, will talk about CenturyLink's approach to making its network less complex while adding flexibility and automation.
Thursday, March 16, 2017
12:00 p.m. New York/4:00 p.m. London
The promise of 5G connectivity is a truly Networked Society. 5G is not just about making the throughput larger, it is also about offering use case optimized user experiences and inclusion of new vertical sectors. Use cases predicted for 2020 will need new types of connectivity services that are highly scalable and programmable in terms of speed, capacity, security, reliability, availability, latency and impact on battery type. 5G will need to be an agile, dynamically programmable network that can meet diverse needs with new, as-a-service models on a single infrastructure. In this Webinar, you will learn how the Open Networking Foundation is combining open source and software defined standards through its Open innovation Pipeline to advance innovative architectures such as mobile CORD (M-CORD). M-CORD is being developed by the CORD Project community under ONF's leadership and hosted by The Linux Foundation. Built on the pillars of SDN, NFV and cloud technologies, the end-to-end M-CORD open reference solution is arming operators with the capabilities needed to start planning for the upcoming 5G transition.
All resources
Barcelona Shines During MWC
Slideshow archive
Dissecting 'Mobile-First' Usage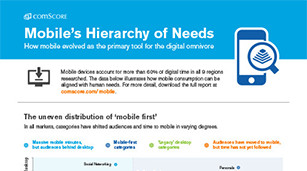 Infographics archive