This will be a transition year for 5G, without heavy expenditures on macro basestation transceivers, but that changes beginning in 2019, according to the latest report from Mobile Experts Inc.
The report, "Macro Base Station Transceiver Forecast," is available for preview and purchase here. It notes that only in China is there a major rollout scheduled for 2018, the nationwide effort in the 3GHz to 5GHz range which will dwarf other deployments, including those in Korea, Japan and the US. Mobile Experts adds a cautionary note there as well.
"Because this is politically driven (as a jobs program and a vehicle to develop the Chinese telecom supply chain), the inherent risk in our China forecast is tremendous," the report states. "We're anticipating a nationwide 5G surge in China -- but if the politics change, and an ROI-based approach is applied, then the Mobile Experts forecast for 5G NR deployment would quickly drop in half or more," the report notes.
Outside of Asia and the US, 5G NR deployment will happen in 2018 "only in selected countries where operators have very high data density and high ARPU," the report notes. That means spotty 5G deployments in European cities with much smaller basestation numbers. Mobile Experts does predict a continued buildout of LTE capacity over the five years covered by the forecast and ongoing deployment of NB-IOT base stations.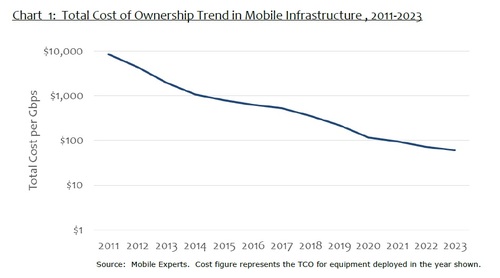 The report also calls 2018 the turning point in the industry's shift away from new applications that drive the mobile infrastructure market to a focus on reducing the cost of that infrastructure. "Mobile data has become a commodity, and for every commodity cost takes the #1 priority," it states.
Finally, Mobile Experts point to technical trends impacting the market including the growing impact of Massive MIMO, which is now in the field for time-division LTE networks and the deployments of fixed and mobile 5G in the 28GHz to 40GHz spectrum, which will be limited but done with very high capacity.
— Carol Wilson, Editor-at-Large, Light Reading