AUSTIN, Texas -- Big Communications Event -- While the narrowband and low-power wireless Internet of Things (IoT) market size is smaller than the overall market, it's still substantial and holds great potential for additional revenue streams for service providers, explained Huawei's George Reed in a session at BCE today.
George Reed, SVP of solutions and marketing for Huawei Technologies Co. Ltd. , delivered a presentation on "IoT and Smart Applications" to zero in on the wireless IoT side and provide use cases for a wide range of revenue opportunities for operators. Reed examined opportunities in the cellular IoT market -- in 2015 there were 400 million cellular IoT connections and that's forecast to grow by seven times to 3 billion cellular IoT connections in 2020.
"From a connected devices perspective, the CAGR … as you look across the ten-year period [of 2015-2025], is roughly 17%," said Reed.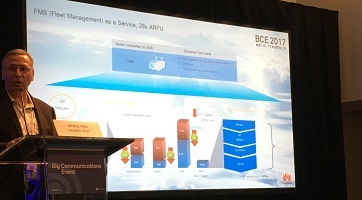 Reed said the top sectors for telco IoT business are smart utilities and smart cities, which includes the sub-categories of smart metering, smart parking, smart tracking, smart trash bin and environment monitoring.
Reed addressed several use cases and benefits, based on deployments and calculations, for how NB-IoT enables smart services and can be leveraged to generate new revenue streams for telcos.
In one example Reed provided, NB-IoT enables smart water service by detecting leaks, reducing meter reading costs, avoiding misreadings from human error and more. Reed explained that by applying telco business modeling, operators can add additional services, build additional business on top of it, and generate revenue from more than just the connection side.
"It's the service elements that you layer on top of [connectivity] where the telcos, if they're paying attention, can earn some additional revenue," said Reed in an interview today with Telco Transformation.
NB-IoT solutions can also be utilized in smart parking applications to drive down labor costs and automate reporting on parking spots, for example. For fleet management, operators can provide connectivity in IoT applications but also layer on services for new revenue opportunities by addressing fleet management pain points such as fuel consumption, driving speeds, location monitoring and more.
Finally, Reed gave the example of a connected elevator -- if a smart device is deployed on an elevator, telcos can provide information on remote fault diagnostics, data processing, where elevators are failing and what parts need replacing the most. Customers can then do preventative repair ahead of time to save money on maintenance.
"They can all pretty much do the connectivity piece, but do I take that data and do some additional analysis for the customer, particularly in an elevator where you have mechanical and electrical parts that you know are going to wear out? Can I as a telco or other third party, analyze that data, ship it back to the company … and say you need maintenance based on what's coming off the device in the elevator?" asked Reed in the interview. "If the telcos want to get that bump -- and you saw some substantial bumps, 7x, 14x, 28x -- it's there. They have to equip themselves with the tools and capabilities to support it, otherwise it's a dumb pipe."
— Kelsey Kusterer Ziser, Senior Editor, Light Reading