Hyperscale data center operators are making significant inroads in dominating key cloud service markets, according to a recent report from Synergy Research Group. (See Hyperscale Operators Continue Ramping Up Share of Cloud Markets.)
The report identifies 24 hyperscale companies that secured 68% of the cloud infrastructure services market (IaaS, PaaS, private hosted cloud services) and 59% of the SaaS market in 2016, up from a hold on 47% of each of those markets in 2012. In total, these hyperscale operators have nearly 320 large data centers, and Amazon, Microsoft and IBM each have at least 45 data center locations, with two or more located in each of the North America, APAC, EMEA and Latin America regions.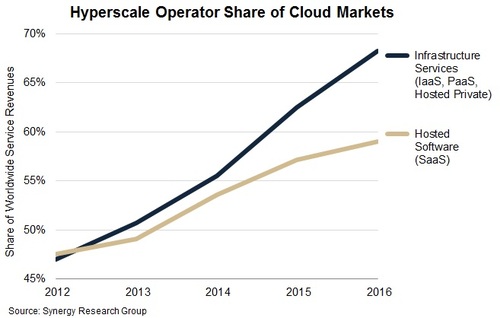 The number of data centers operated by hyperscale providers hit 300 after a year-end push in 2016 from companies like Amazon, Google and Alibaba to open new data centers, according to an announcement by Synergy Research Group Inc. in December 2016. Synergy forecasts that the number of hyperscale data centers could exceed 400 by the end of 2018. While operators are increasingly looking to position data centers in other countries, the "US still accounts for 45% of major cloud and internet data center sites. The next prominent locations are China and Japan, with 8% and 7% respectively," according to the release.
Synergy defines hyperscale operators as having hundreds of thousands of servers in their data center networks, the largest of which can have millions of servers -- which includes web scale giants like Amazon and Google.
"Hyperscale operators are now dominating the IT landscape in so many different ways," said John Dinsdale, a chief analyst and research director at Synergy Research Group, in the announcement last week. "They are reshaping the services market, radically changing IT spending patterns within enterprises, and causing major disruptions among infrastructure technology vendors. Our latest forecasts show these factors being accentuated over the next five years."
While hyperscale operators have a significant hold on the cloud services market, an increasing demand for cloud computing resources, and the industry move toward virtualization has opened the door for new opportunities for a number of players.
For example, Huawei announced last week plans to focus on launching its own public cloud services, in addition to its current public cloud services partnerships with service providers including Deutsche Telekom AG (NYSE: DT) and Orange. The move to develop its own public cloud services could position Huawei Technologies Co. Ltd. as a competitor to hyperscale companies like Amazon and Google, and Huawei plans to set up a fourth business division -- in addition to its existing carrier, consumer and enterprise divisions -- to manage cloud activities.
In February, Orange Business Services announced a partnership with Huawei to deliver a global public cloud offering with advice, auditing, integration and managed services for cloud infrastructure and applications for large corporations. (See Huawei Takes Aim at AWS, Google With Public Cloud Move and Seen & Heard: Orange Debuts Public Cloud Offering.)
— Kelsey Kusterer Ziser, Senior Editor, Light Reading