OPNFV made progress at its second Plugfest in advancing interoperability with other open source platforms, notably integration of the OPNFV platform with both the Open Compute Project and Open Orchestrator Project.
Open Platform for NFV Project Inc. released a report Friday on December's Plugfest event, hosted at the University of New Hampshire InterOperability Laboratory (IOL) , which summarizes findings from the week-long interoperability tests of the OPNFV platform over multiple commercial hardware platforms.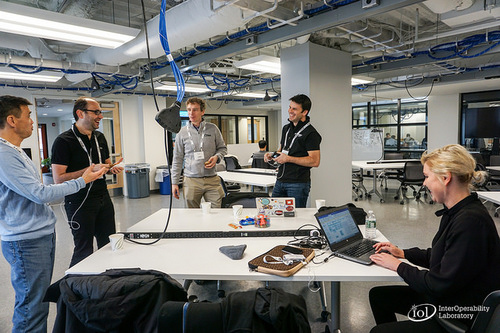 Huawei Technologies Co. Ltd. was one of three vendors providing hardware at Plugfest; Lenovo Group Ltd. (Hong Kong: 992) and Nokia Corp. (NYSE: NOK) both brought Open Compute Project (OCP) hardware for testing with OPNFV's platform, the Colorado release. A delegation from the OPEN-Orchestrator Project (OPEN-O) also brought their Sun release and "integrated with some OPNFV scenarios so that we're able to have end-to-end MANO and NFVi VIM," said Heather Kirksey, director of OPNFV.
"We did a lot of testing of various OPNFV scenarios using different automated deploy tools that different folks have brought in to the community, deploying those on various vendors' commercial platforms and we were able to test on both on x86 and ARM [hardware], which is very exciting, and we were also able to test the vendors…who supplied hardware on-site or remotely," said Kirksey.
OPNFV began running a multi-site project prior to the event, and the Plugfest teams were able to demonstrate multi-site deployment of the Colorado release on multiple commercial hardware solutions.
"We've had a multi-site project running for a while and they've been doing work with Open Stack to get the ability to manage different geographical data centers within the same administrative domain… We were actually able to get a couple labs from different parts of the country up and running, one remote, one on-site and demonstrate multi-site with some of the enhancements with multi-stack that have been going on," said Kirksey.
In comparison to the inaugural OPNFV Plugfest in May 2016, organizers from OPNFV and UNH-IOL said the second Plugfest featured a smoother work flow, increased access to hardware, and made it easier for participants to collaborate with offsite colleagues. The report on the most recent Plugfest documents a few minor bugs and fixes for the next OPNFV release, but Kirksey said the lack of any major issues and a smoother process overall is "perhaps a sign of growing maturity."
According to Lincoln Lavoie, senior engineer at UNH-IOL, the event was attended by 23 organizations and 70 people -- nearly twice the participants that attended the initial Plugfest -- and also featured the addition of a Hackfest.
Kirksey said it not only made logistical sense to combine the two events, but the Hackfest also provided a forum for commercial product teams to interface face-to-face in real-time with developers from the open source community, expediting troubleshooting of upstream bug files, for example.
In addition to the delegation from Open-O, a representative from OpenDaylight was also present and provided OPNFV with insight on how to improve the CI pipeline between the two communities.
OPNFV plans to host a third Plugfest for testing of the Danube release, which comes out in March. The next Plugfest is scheduled for April 24-28 at Orange (NYSE: FTE)'s lab facility at the Orange Gardens campus in Châtillon, France.
— Kelsey Kusterer Ziser, Senior Editor, Light Reading