OTT video is affecting device penetration, according to new research from Nielsen. According to its Q2 2017 Total Audience Report, just under 60% of US homes now have an Internet-connected device that can stream video to their TV set. Devices of this kind include Apple TV, Google Chromecast, Amazon Fire TV, Roku etc., but also gaming consoles and smart TVs. According to the report, there are about 70 million TV households in the US that own at least one such device. And that's up 12% since June 2016.
The desire to connect web streaming video services to the TV screen underscores consumer preference for viewing TV content on the TV. But its not clear if this preference is maintained for shorter form videos, such as short user-generated content or services like Facebook Watch, aimed at mobile-first, community-oriented viewing.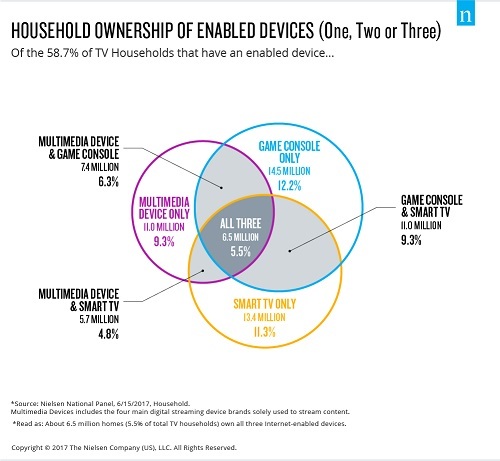 Consumers are also doubling and tripling-up on their connected streaming devices. Of the approximately 70 million homes with some sort of connected device aimed at getting online video to the TV screen, almost 10% have all three types of devices: a specialized streaming device such as Apple TV or Fire TV stick, a gaming console with Internet connectivity and a smart TV. In particular, Nielsen highlighted the broad adoption of smart TVs which were "increasingly approaching ubiquity" in the US, with one in every three US TV homes now having one.
Nielsen found that 31 million homes, about a quarter of all US TV homes, have at least two connected devices of this sort. These households are also a very attractive demographic, typically young, affluent and employed. Nearly half had heads of household that were under 45 years of age, were more likely to have children and had a median household income of $70,500. Three out of every four were currently employed, with a majority in so-called white collar occupations.
While not indicative of all OTT viewers, this particular sub-section (households that have multiple connected devices streaming video to their TVs) is an extremely valuable advertising commodity -- a fact companies like Roku and TiVo that are looking to build advertising businesses are only too aware of.
But this also suggests an opportunity for pay-TV providers, to look for ways to target new advertising formats to these households -- especially if they can be tied to video services either via skinny bundles or through companion streaming services as part of a full-fat pay-TV bundle.
— Aditya Kishore, Practice Leader, Video Transformation, Telco Transformation