Virtual Reality Roundup

Virtual reality (VR), 360-degree video and augmented reality (AR) continue to generate considerable enthusiasm within the video industry, particularly among producers and broadcasters. Previous posts have discussed this, but announcements in the past week again demonstrate the steady, ongoing stream of new initiatives offered by various members of the video value chain. (See Momentum Builds for 360-Degree Video.)
Some examples are summarized below:
CBS News announced yesterday that it would be offering a new app for Amazon Fire TV and Android TV devices, with 360-degree video included for the first time. A segment on gorillas shown on 60 Minutes will be the first one offered in this format. The service delivered 27.2 million streams in October, according to the company, so it offers a good-sized launch pad.
Theater company IMAX has raised $50 million from a range of media industry investors to fund more than 20 virtual reality centers in theaters worldwide. Original content shown at these centers will also be made available for in-home VR as well. The first IMAX VR centers will open in Los Angeles and Manchester (in the UK). This would seem like an obvious move for the company -- when your business is built on offering 180-degree video, the emergence of 360-degree video technology would almost require early adoption.
Major movie studio 21st Century Fox is releasing "The Martian VR Experience" today. It is a VR simulation that allows viewers to see Mars from the point-of-view of Matt Damon's character in the 2015 movie. The studio hopes to benefit from the film's recognition as well as its own considerable marketing effort.

It is priced at $20, though, which is considered quite high for a 30-minute video. An average film costs less than $10 in the US, and lasts 90 minutes. As such, it is a test of consumer demand and willingness to pay for 360-degree video, and how much of a premium consumers are willing to attach to it.

"The Martian VR Experience" is being offered on PlayStation VR and the HTC Vive currently, but the studio expects to add support for the Oculus Rift next month.
It's not just entertainment that these technologies will influence. As discussed in previous posts, VR also has implications for enterprises and other organizations. One example is watch manufacturers, who are taking a productive video approach to using VR, and leveraging the technology to help communicate the inner workings of watches and the factories where they are produced. A recent story in The New York Times listed a number of VR/360-degree video apps created by luxury watch makers. Roger Dubuis highlighted features in three of its high-end timepieces using a VR experience on an Oculus Rift, while Piaget's two-minute long VR "Polo Experience" was launched along with the Piaget Polo S watch, aimed at younger buyers. Meanwhile, TAG Heuer used VR to fly viewers through the inner movement in a TAG Heuer Carrera, while Shinola developed a 360-degree video of its Detroit factory and workers. (See How VR Helped Land Rover Raise the Roof.)
Legislators are also starting to look at the new technology to understand its impact on a range of issues. The Senate Commerce Committee is set to hold its first-ever hearing on augmented reality. It will explore the implications of AR technology beyond just gaming or entertainment, looking at its application across a range of productive video use cases such as transportation safety, scientific research and communication.
While it's clear that enthusiasm and interest in this area (VR, AR, 360-degree video) are growing, I would again note that most of these initiatives are still exploratory. We are still seeing one-off events rather than a commitment to roll out an ongoing service. This is because we are at an early, uncertain stage in the development of these technologies.
I think the use cases and business cases are likely to develop faster in the productive video space than in entertainment. Today, the right approach to producing 360-degree entertainment is still unclear. We know how much control the producers/directors need to maintain to tell a story well, versus how much freedom the viewer should have to control the narrative. And that's not taking into account technology issues such as headset constraints, standards, network congestion and instances of motion sickness caused by immersive VR.
VR is on the move -- but it's clearly still early days yet.
— Aditya Kishore, Practice Leader, Video Transformation, Telco Transformation

10/16/2017
Huawei Network Transformation Seminar
The adoption of virtualization technology and cloud architectures by telecom network operators is now well underway but there is still a long way to go before the transition to an era of Network Functions Cloudification (NFC) is complete.

MEF is working to define, deliver, and certify dynamic communications services that are orchestrated across a global ecosystem of automated, virtualized and interconnected networks. In this radio show, MEF CTO Pascal Menezes talks about the challenges and the solutions that his organization is working on and provides a preview of the MEF17 conference in November.
Thursday, September 21, 2017
12pm EST
Software-defined networking (SDN) is a key component of services providers' virtualization game plans and AT&T and Level 3 Communications have been at the forefront of its adoption.
In this webinar, Andrew Dugan, CTO of Level 3 Communications, and Amy Wheelus, Vice President of Cloud and D2 Platform Integration at AT&T, will discuss how their companies have leveraged SDN within their networks, services and applications. Some of the key areas that will be covered include:
Automation, APIs and lifecycle service orchestration
The continued evolution of SDN-based solutions and SDN in networks, including SD-WAN, dynamic cloud connections and scalable Ethernet and security solutions.
All resources
NFV/SDN: Summit Ascent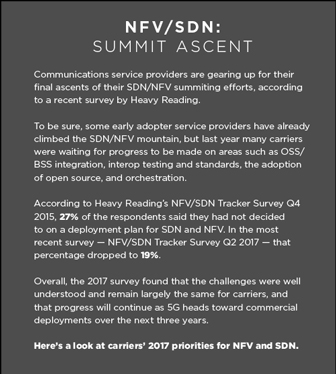 Infographics archive