Shipments of 4K ultra-high definition (UHD) TV's this holiday season are expected to reach 4.5 million units, pushing UHD TV sales for the full year to 10 million units, according to research from the Consumer Technology Association (CTA) released last week. Prices have declined 22% over the course of 2016, driving an estimated 40% increase in sales compared with last year.
The CTA said that a growing number of brands, screen sizes and price points are driving adoption, coupled with new technologies such as High Dynamic Range (HDR) and Wide Color Gamut (WCG), which have become more widely available.
The CTA forecasts that 56% of all TV sets sold in the fourth quarter will be 4K UHD, and UHD sales will approach 50% of all TV sales during the year. In fact, 4K UHD TVs will be among the most desired technology devices this holiday season, matching demand for smartphones and only lagging notebook computers.
Still, sales of 10 million units in 2016 would fall below the CTA's original forecast of 14.5 million, as adoption has been slower than anticipated. But conversely, it is faster than the transition from standard-definition TVs to high definition (HD). According to CTA's senior director of market research, Steve Koenig, cumulative sales of 4K UHD TVs are forecast to reach 18.6 million by the end of the year, compared with just 4.2 million units reached by HDTV after the same period of time.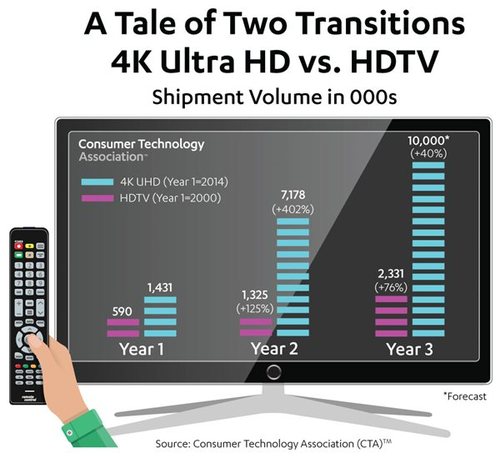 Adoption is also being aided by UHD Blu-ray disc sales, which crossed 12 million units in October and are generating $25 million in consumer spending.
Broadcast content is also becoming more widely available, as prior posts have discussed. And on a recent Telco Transformation radio show, AT&T's John Ward pointed out that it will be increasingly difficult to find a TV that is not 4K capable -- any new sets coming out will come equipped with this functionality. (See The Birth of the 4K Era, AT&T's Ward Talks 4K and BT Sport's COO Discusses UHD.)
Despite the growing household penetration of UHD TVs, the technology does face some challenges:
Bandwidth: UHD resolution is four times that of HD; and most pay-TV providers are only just getting their HD service rollouts completed. Each high-quality UHD stream will need about 25 Mbps, according to Thierry Fautier, president of the UHD Forum. At scale, that is an onerous requirement, especially given that each home has multiple TV sets and/or streaming devices.(See UHD Forum's Fautier Clarifies UHD Growth Path.)
Content: While TV content is increasingly being produced in UHD today, the majority of TV programming is library or second-run content. Only prime-time and a handful of other shows are produced recently; most channels depend on syndicated content to fill up the rest of the day. How then do you launch a 24x7 UHD channel? And how keen will users be to watch lower-resolution content if they've just bought a UHD TV?
Size: Research suggests that most consumers don't really notice much of a difference between UHD and HD if the TV set is less than 55-60 inches. How many consumers have 60-inch TVs, or even apartments large enough to fit that size of TV?
Varying technology approaches: There are multiple approaches to offering HDR on UHD TVs. While the addition of HDR significantly improves the visual experience for consumers, there are multiple approaches to HDR currently being discussed. What does that mean for the willingness of manufacturers, pay TV providers and broadcasters to commit to the technology? And what does it mean for consumers who buy a UHD TV today -- only to discover a new approach has been decided on, and next year a new, significantly better UHD TV becomes available?
It is likely that UHD penetration will grow steadily because manufacturers and retailers have little to gain from selling new buyers old technology. They will look to upgrade consumers to newer UHD TV sets. So it does seem that the transition to UHD is well underway, at least in terms of TV sets. But there are significant challenges for content producers and distributors that still remain to be resolved.
— Aditya Kishore, Practice Leader, Video Transformation, Telco Transformation