BUDAPEST -- Digital TV Central & Eastern Europe -- OTT services will struggle given the diversity of languages and the limited population of each country in this region, according to a panel of operators speaking at the event here. (See We Must Support Both Existing & Emerging Subscriber Needs — Cyfrowy Polsat and AMC Programming Head Analyzes New World of Content Acquisition .)
But take-up rates could vary substantially by country and there may be an opportunity for OTT services, particularly among younger, English-speaking audiences interested in Hollywood content.
Luana Alexe, senior product & service development manager at Slovak Telekom , said the operator had launched OTT services initially as a value-added service for its existing subscribers. It noticed a "shift in usage patterns," suggesting that there was potential for OTT as a standalone service. Slovak Telecom now offers exclusive content to subscribers via OTT who would probably not have signed up for more traditional pay-TV services.
Thomas Staneker, head of the Deutsche Telekom AG (NYSE: DT) TV Technical Services Center, said it was still mainly focused on hybrid solutions combining IPTV with satellite or broadcast linear TV services. It was looking at OTT but Deutsche Telekom's whole approach to TV was to look for ways of developing economies of scale by consolidating technology, development and services and then replicating them in each of the eight national units in the region. The operator looks for synergies across multiple markets when developing its new product strategy, and OTT doesn't necessarily align well with such an approach.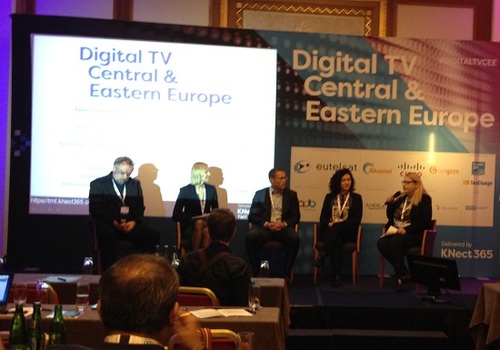 In fact, in countries where the operator didn't offer pay-TV, it had more OTT options. As an example, Staneker mentioned Holland, where
T-Mobile Netherlands
offers an OTT service called Knippr (which literally translates to "clipper" or "cutter" in English). That's a very aggressive term, and the service is marketed equally aggressively, actively encouraging cord-cutting. This would be far more difficult if there was an incumbent pay-TV service offered by the operator in the same country. (See
OTT Is a Game Changer – T-Mobile's Van Lammeren
.)
Nikola Francetic, head of group content for media and broadcasting at Telekom Austria Group , also felt that the opportunity to expand the business through OTT was limited, especially compared with offering mobile services. But there were opportunities to expand services within the existing base and even target totally new subscribers. He felt it would be tougher in Austria, which was a more developed market and already had "a lot of the big guys." But the central and eastern European countries (CEE) offered opportunities. Telekom Austria has already launched an OTT service in Bulgaria, and will be launching soon in Croatia, Macedonia and Slovenia.
Laima Zivatkauskaite, vice president at Lithuanian MSO INIT, said that Netflix Inc. (Nasdaq: NFLX) was struggling in Lithuania. Only 2% of the country had used the service so far, while linear TV viewing was not declining.
"Catch-up is our first priority," she said, "even more than VoD." OTT didn't really figure in her plans since Lithuania, like a lot of countries in the region, also suffered from widespread piracy. And local broadcasters stream their content online for free. So a pay OTT service would be very difficult to monetize.
Local content was seen as key, with Staneker pointing out that Netflix didn't even have its user interface in the local language in most countries in the region. He recognized that would change quickly, but it underscored the fact that generating revenue would be difficult without a "local, not just localized" service, as Staneker put it.
Viaplay's OTT service offers local content, but Zivatkauskaite pointed out that even that hadn't worked in the region. She questioned whether even local content would justify the cost of Netflix (considered high for the region). Its best bet, she felt, was to offer Hollywood content in English, target it at the younger and more affluent consumers who were more likely to adopt advanced services, and leave older groups to watch linear TV.
But Telekom Austria's Francetic disputed this, pointing out that his parents use VoD services almost all the time now rather than linear TV, and they are not at all tech savvy. He felt it was not about age or technical dexterity, but convenience. "People don't want to think a lot [about TV services]," he said, arguing that a good, intuitive UI could drive OTT adoption.
Staneker suggested that operators could partner with local broadcasters, and offer multiscreen catch-up and VoD services, essentially creating a live "window" for the broadcaster and an on-demand "window" for the pay-TV provider.
Alexe shared some surprising findings from Slovak Telekom's OTT service. Its peak usage is right after TV prime time, which is consistent with online video usage in most countries. But the next highest peak occurs after lunchtime on weekdays, where users watch reruns of comedies from commercial Slovak TV stations. This was an unexpected occurrence, and would suggest that Staneker's suggestion might well have merit for regional pay-TV providers.
But overall, the panel didn't anticipate much of a threat for pay-TV from OTT. Staneker believes that OTT usage will peak quite quickly and then decline. He shared an interesting finding from DT's Hungarian subsidiary, Magyar Telekom, to prove his point.
Earlier this year the operator streamed the Euro soccer tournament live to its subscribers. Given the tepid sports viewership in Hungary, Magyar Telekom was concerned when traffic started to rise unexpectedly. Hungary had been drawn to play neighbor and rival Austria, and the match drew an unusually high number of viewers. Not only that, Hungary went on to beat a stronger Austrian team. This generated tremendous excitement for the next match against Iceland, and pushed Magyar Telekom's network to the very edge of its capacity.
However, when Hungary actually qualified for the next round, traffic dropped. This was because viewer behavior changed. Now that it was a big deal, people planned to watch Hungary's matches. And they wanted to do it surrounded by friends, in a bar or other social situation, rather than streaming it to a laptop or smartphone screen.
Telekom Austria's Francetic had a different argument, but the same conclusion. He felt that there were too many OTT services, and selecting from among them was becoming complex.
"The OTT universe is becoming too fragmented," he said,, "and maybe consumers will be looking to operators again to provide a simple basic service."
OTT may be having an impact in some parts of the world, but pay-TV providers in CEE certainly aren't worried about it.
— Aditya Kishore, Practice Leader, Video Transformation, Telco Transformation