BUDAPEST -- Digital TV Central & Eastern Europe -- New markets are emerging within existing territories, according to Dariusz Dzialkowski, the CTO of Polish broadcaster Cyfrowy Polsat, and they have new demands for TV experiences. Speaking at the Digital TV Central & Eastern Europe event this morning, he outlined the changing behavior for the consumption of TV in Poland.
Younger viewers are viewing less TV, he said. Instead, cloud-based streaming services and viewing on tablets and particularly smartphones is growing. Behavior is also changing -- smartphones are more personal devices and content selection is more personal as well. Meanwhile, TVs are used more for family viewing today.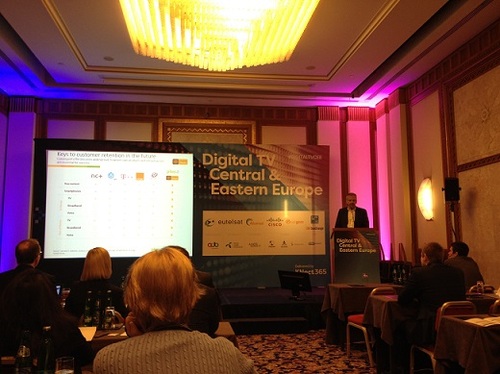 "I don't think TV will disappear," said Dzialkowski, "but other devices, and a more personal TV experience will be key."
Dzialkowski described the evolution of the Polish pay-TV market, starting with the launch of cable in urban Poland in the 1990s to compete with free-to-air broadcasts. Then came the "digital transformation", with the launch of digital satellite services Canal Plus, the American WizjaTV services, and Cyfrowy Polsat itself. Canal Plus and WizjaTV merged, and quickly picked up 10% market share. (Subsequently, Canal Plus also acquired NC to form NC Plus, an HD-oriented provider.)
Cyfrowy Polsat didn't have access to the exclusive content these companies were able to offer, but did compete on price, and was able to grow its subscriber base. In 2008, the operator was able to cross the 2 million subscriber threshold, giving it the negotiating muscle and financial resources to then develop its own premium content services.
Today the operator reaches 3 million plus households and has 13 million revenue-generating units (RGUs), or paid product/service relationships such as telephony, broadband Internet, TV and mobile.
Dzialkowski acknowledges that the recent entry of Netflix is potentially disruptive, as are other local players, but points out that Cyfrowy Polsat is also one of the OTT providers in the Polish market.
"We must cater to existing subscribers," he said, "but also new subscribers. We are faced with a new market, and new demand."
Cyfrowy Polsat acquired a mobile operator in order to reach smartphone viewers with some of the content packages they had developed.
"We need distribution," [for premium content] he said, "and if you have other services [beyond pay TV] you can do more than just offer TV."
But he also recognizes that mobile operators like Orange and T-Mobile, who are not TV competitors today, will be in the future. "Video will be something they have to deliver in the future," he said.
Cyfrowy Polsat has been developing a sizeable slate of content. Today, it produces more than 30 channels in-house and licenses 133 others. "Local content is as important as Hollywood," according to Dzialkowski, "and local infrastructure, local expertise is very important."
But people only watch approximately ten channels regularly, among the 200 or so that the operator offers. "People like choice, and so we offer a lot of options. But they mostly watch only ten channels."
Still, Cyfrowy Polsat has put together a selection of distribution platforms, across satellite, paid terrestrial broadcast, Internet streamed OTT and mobile-specific services. It supports pay-TV delivery to smartphones, laptops, tablets and of course set-top boxes. Dzialkowski also talked about a new set-top from ADB that had multiple tuners, and allowed viewers to record three other channels while they watched a fourth. It also facilitated fast channel change -- a major requirement today, according to Dzialkowski.
Moving forward, he acknowledged that "content is king," but added that "distribution was the queen, and she has the keys to the kingdom!"
Internet distribution was very important, and especially it can deliver 100 Mbit/s (part of the EU plan).
"Customers hate delays, whether it's buffering or rebuffering, or slow channel change times, so fast speeds are essential."
But TV would remain important, not least because Poland is largely rural, with the majority of the population scattered across the country.
"In some places, population density is so low, it's not even possible to make a business case for mobile broadband," he said.
And that is also why he feels new technologies should only be deployed when they were market-ready. Dzialkowski offered 4K as an example, which he felt was not viable today.
"We need the full UHD experience, with HDR and wide color gamut for it to really have a compelling value. And how many people have 50-inch TVs today?"
— Aditya Kishore, Practice Leader, Video Transformation, Telco Transformation