The Q2 2016 Total Audience Report from The Nielsen Co. was released yesterday and found evidence of "cord shaving" among US homes. Nielsen's research found that the number of channels received in US homes declined, and so did the average number of channels viewed. In May 2015, the average US home received 208 channels, compared with 205.9 channels this year. The number of channels viewed also fell marginally, from 19.9 channels a year ago, to 19.8 channels today.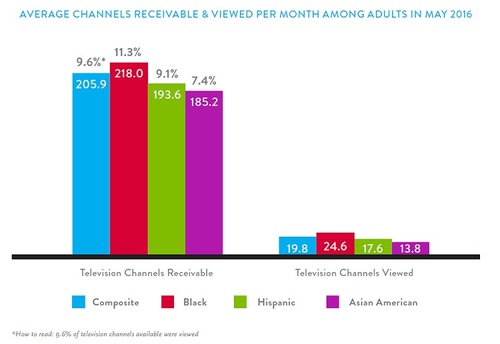 As you would imagine, cord shaving was more pronounced in homes with streaming services. The number of channels viewed in homes subscribing to SVoD services was 18.6. Among viewers aged 18-34, viewership was even lower, with just 14.9 channels being watched on average. And among homes in that age group that subscribed to an SVoD service, the average was still lower, at 14.3 channels.
Nielsen's research also found evidence that subscription OTT services continue to grow, with 53% of homes now subscribing to at least one service, compared with 45% at the same time last year. Mobile usage is also growing steadily, according to the report.
However, the research also found that the impact of OTT may be moderating. Live viewing, while continuing its decline, still remains dominant in terms of time spent. And the decline may be flattening out, according to Nielsen. People spent an average of four hours and nine minutes per day viewing live TV, down two minutes from the second quarter last year. But that's compared to a considerably steeper decline of eight minutes between 2014 and 2015.
Still, the decline in pay-TV homes continued, with another 2% of homes cutting the cord. Nielsen estimates that 98.7 million US homes subscribe to pay-TV today. Of these, 53.4 million subscribe to cable, up 2% from last year; 34.5 million subscribe to satellite services, down 0.4 million; and 11.2 million get their pay-TV from a telco, down 17% from last year.
The findings support broad industry opinion of trends in the TV market, but I would be wary of reading too much into some of the results. Some differences are marginal, and one year is not a trend, specially when it is both an election year and an Olympic year.
— Aditya Kishore, Practice Leader, Video Transformation, Telco Transformation