The US cable industry is well-positioned for the next ten years, according to analysis from research firm SNL Kagan. The company released a new US cable industry forecast yesterday, projecting total industry revenue would grow from $130.57 billion in 2016 to $140.99 billion in 2026, about $10.42 billion over the ten-year period.
SNL Kagan projects that the growth will come primarily from continued broadband subscriber additions, with MSOs bringing in 8 million new data subscribers over the next ten years, to reach 71 million. This will drive residential revenues up $9.32 billion, from $108.38 billion in 2016 to $117.7 billion in 2026.
This revenue growth will come in the face of sustained basic video subscriber losses over the next decade, but even these will be slower than previously forecast. Cable will end 2026 with 45.4 million basic video subscribers, shrinking at a 1.5% CAGR instead of the 1.7% forecast previously, Kagan said.
Revenue from commercial services will grow as well, pushing total industry revenue from $130.6 billion today to $140.99 billion by 2026. And MSOs will also benefit from growing advertising revenues, rising to $6.3 billion in 2026, despite a shrinking video subscriber base.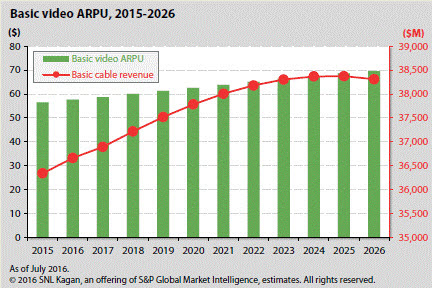 Kagan did identify concerns about cord-shaving as well, and acknowledged video revenue would suffer, falling 0.5% CAGR over the period as a result. But the analysts expected new advertising revenues would help MSOs offset that revenue loss.
Overall, the picture for the cable industry seems quite positive. It's clear that cord-cutting and cord-shaving are having an impact on the cable business, but it seems more of a steady erosion than a dramatic plunge. This means MSOs have time to transition into slim TV models, TV Everywhere services and OTT partnerships, to steady the ship. And the anticipated growth in broadband, business services and advertising means they have the resources to do so.
Still, it's the MSOs' broadband business that is the main driver for growth and revenue now, and that will likely herald a shift in strategic priorities for them. Cable has been a video business at its core, but it can't be any more: Video is a declining business now, much like voice has been for telcos since last decade.
— Aditya Kishore, Practice Leader, Video Transformation, Telco Transformation