Three out of every four visits to video piracy sites used web streaming to consume illegal content, according to a new study from antipiracy technology provider MUSO. This indicates a trend away from downloading or "ownership" of pirated content via P2P/torrents and downloads towards streaming.
MUSO's Global Film & TV Piracy Insights Report 2016 was released last week, and covers 226 countries and dependent regions. It analyzed global traffic from 14,000 of the largest global piracy websites and across 200 million measured devices, comprising more than 141 billion visits.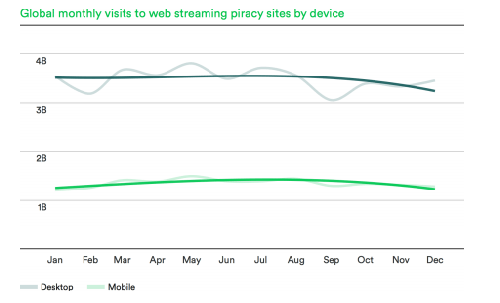 The study reported that in 2015, 73.7% (57.84 billion out of 78.49 billion) of piracy site visits were to streaming sites. More than 72% came from desktop devices, with mobile piracy still comparatively low. The US was the leader in this respect, accounting for 12% of all pirate visits. France, Germany and the UK all ranked in the top ten.
Torrents still rank second though, accounting for 17.24% of all audience visits. MUSO found that use of torrents fell nearly 19% between the first half of 2015 and the second half. Downloads totaled just 8.38% of piracy visits, contributing a relatively small percentage of pirate site visits.
The transition is likely driven by the improvements in network capacity, allowing for a smoother streaming experience, and by consumers increasingly used to on-demand applications, less willing to wait for a video to download before they can start watching.
It also underscores the threat confronting the entire industry, as discussions of new, emerging business models are meaningless if revenues are lost to piracy.
But not everyone sees piracy as purely negative. Jeff Bewkes, Chairman and CEO of Time Warner Inc. (NYSE: TWX), famously said some years ago that its Home Box Office Inc. (HBO) show Game of Thrones was the most pirated show in the world, and that was "better than an Emmy." His argument was that it was free marketing, and that in time it led to more penetration and paying subscribers, and reduced the need for paid advertising.
It's not clear that everyone agrees with him, but it is clear that every viewer of pirated content would not necessarily have purchased the content legally if it wasn't available via pirated sources. So "losses" due to piracy are notoriously difficult to calculate. And as Bewkes pointed out, there are some promotional advantages to be gained from piracy.
Still, at some level of abstraction, if content is available for free, people won't pay for it. And then eventually, it simply won't get made. For the foreseeable future anyway, content owners and distributors will look to protect their content. And this study suggests it's not P2P and downloads they should be concerned about now, it's streaming.
— Aditya Kishore, Practice Leader, Video Transformation, Telco Transformation