New research from Adobe Digital Index's latest Digital Video Benchmark Report unveiled this week found that 72% of mobile TV Everywhere viewers consume their video in one location. This is consistent with TV Everywhere viewing behavior across all devices (including PCs and TV-connected devices), with 71% of all TV Everywhere viewers viewing video content from one location.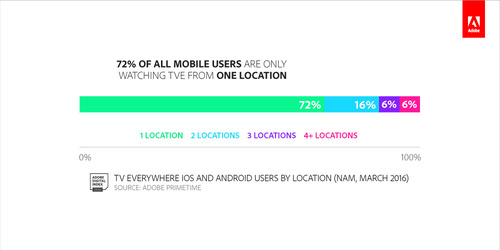 Adobe believes this lack of movement equates to higher engagement, presenting a great opportunity to marketers to leverage the reach and potential of TV Everywhere.
There is logic in this assumption: Several advertisers believe that mobile video is a form of video "snacking," and therefore a low-engagement activity. But this data clearly states that almost three in four of mobile video interactions are not on the move, suggesting more of a lean-back, and presumably therefore immersive and engaged, video experience.
Still, from a network operator's point of view, it may be worth drawing a distinction between smartphone and tablet usage here. The study tracks iOS and Android devices, but the data doesn't distinguish between smartphones and tablets. In previous Heavy Reading research, we found that consumption of video on tablets using WiFi often represented very different user behavior than on a smartphone on a 3G/4G network. Similar to Adobe's findings, tablet users on WiFi connections had longer average viewing times and were, by definition, less mobile.
For network operators, these may present very different challenges in terms of network management and business case validation.
Still, the news from the study is generally very positive for pay-TV providers. Overall, TV Everywhere consumption had more than doubled during the previous year, growing 107% between March 2014 and March 2015. This growth rate appears to have held up in 2016, with Q1 consumption up by 58% compared with the previous quarter.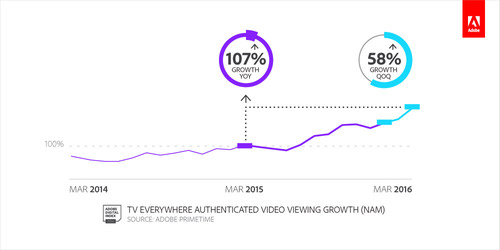 Mobile devices, specifically iOS and Android devices, are the fastest-growing platforms for TV Everywhere consumption in terms of usage frequency, with the monthly averages for both growing 8% between Q1 2015 and Q1 2016. Conversely, frequency of viewing on browsers is slightly down from the previous year, perhaps underscoring the growing importance of tablets for online video consumption.
Data presented in the Adobe Digital Index Digital Video Benchmark Report is based on consumer video viewing statistics from January 1, 2015 through March 1, 2016. The index uses aggregated and anonymous site data from Adobe Analytics and Adobe Primetime. Sample information includes 1.2 billion TV Everywhere authentications in North America and more than 300 sites and apps acting as access points for TV Everywhere.
ó Aditya Kishore, Practice Leader, Video Transformation, Telco Transformation