As Verizon increasingly focuses on DevOps, the telco's present strategy for the Internet of Things market demonstrates that it is taking to heart the issues faced by others who work with the technology -- and acting to unite them via its ThingSpace IoT platform.
In Boston, at this month's Massachusetts Technology Leadership Council's Internet of Things Conference, George Clernon -- a senior consultant working for Verizon's IoT product development team -- moderated a panel on IoT and smart cities. During the Q&A portion of the session, I asked Clernon how Verizon, and the telco industry in general, is helping to enable smart cities and other IoT technologies while conquering the challenges the IoT market faces. (See Smart Lights + Smart Traffic = Smarter Cities.)
"Verizon is a telco with a lot of old utilities and infrastructure out there … and it sees a future in building off of the network that it has in place. I say 'network' -- singular, not plural," responded Clernon. "It's from that starting point [from which we determine how] we enable new applications and enable new markets and new ecosystems. ThingSpace is our IoT platform where we want to bring partners together and we can just build on all the great work that's there, breaking down the silos to get there."
Clernon is far from the only Verizon IoT executive to appear to keenly understand that his company's IoT market position depends upon actively reaching out to partners and developers -- the lifeblood of ThingSpace (as with any platform) -- and addressing their key pain points. (See Verizon Opens More Doors to IoT platform.)
"When we were putting together the strategy for IoT, what we were seeing was this fragmentation. Everybody was going off and doing disparate things, or there were smaller players in the market that really couldn't scale when it came to it, so the fragmentation of scale and … the complexity around the IoT solutions [were problematic] because -- especially in the developer world -- they've got to sign in to multiple locations and have multiple IDs to be able to create a code that's usable," said Mary Beth Hall, director of Verizon's IoT operations, in an interview with Telco Transformation. "What we wanted to be able to do was bring that together under one umbrella. We had our self-serve portal to be able to manage the devices [and] customers, but the piece that we were missing and where we [are now] bringing it all together is the app development -- for the developers to be able to develop the applications in an open, simple format."
This once-missing piece, according to Hall, is ThingSpace Develop -- Verizon's developer site for ThingSpace.
"So the developers today, they can sign up very easily [online]. It's pretty easy to get started," said Hall. "The APIs are written in a way that if you're a coder you know exactly where to go -- but if you're not a coder, there's some tools to be able to help you."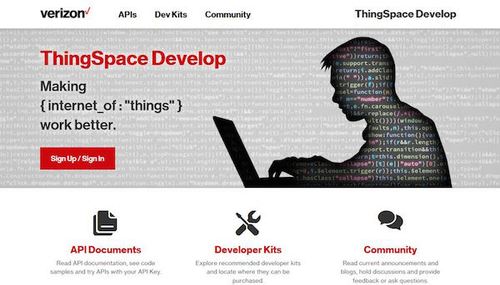 Hall went on to explain that for
Verizon Communications Inc.
(NYSE: VZ) and ThingSpace, IoT DevOps is not just about the APIs themselves, but goes beyond that to the openness and exposure of those APIs -- particularly via the public cloud and Verizon's ThingSpace web portal. It is about access.
"Right now you think of Verizon as connectivity, [with] APIs on the wireless side, and we've got those exposed -- but there's also other assets when you think about us holistically," Hall explained. "You could take, for instance, our cloud APIs. We've got our consumer cloud APIs exposed at the moment. We also want to expose our enterprise cloud. With our acquisition of Terremark [in 2011], we're gonna expose those APIs for developers to be able to use."
Ditto, Hall elaborated, for the rest of Verizon's APIs -- including (just for starters) those for SMS, video, PBX, advanced communications, Verizon's Secure Cloud Interconnect, and a litany of APIs from Verizon's many acquisitions (like AOL).
"The list goes on and on," said Hall.
Hall also noted that Verizon is participating in numerous developer-targeted events in "high-tech" metro areas across the US as part of its developer outreach efforts for ThingSpace. Verizon will be sponsoring the Hackathon at San Francisco's TechCrunch Disrupt this coming September. The way Hall tells it, however, leaves one to think that ThingSpace is such an attractive IoT platform for developers and that its website is so successful that these high-profile events may be smacking up against the law of diminishing returns.
"We've been doing events to attract developers to be able to use the APIs and get started with an app, but a lot of them are just coming to the site – seeing [ThingSpace], and starting to code on their own, and … then we will also pull in partners to help make sure that it's a very robust experience," explained Hall. "And so it seems to be working."
— Joe Stanganelli, Contributing Writer