Virtual reality and 360-degree video are generating considerable enthusiasm from broadcasters. While the bandwidth requirements are onerous, entirely new -- and often unproven -- technology is required and business models remain elusive, the potential for creating an entirely new visual experience is exciting. And that is driving experimentation from a number of content companies, at least for coverage of specific events.
PCCW Global is the global division of Hong Kong incumbent PCCW Ltd. (NYSE: PCW; Hong Kong: 0008) It provides global communications services such as Ethernet, IP, fiber and satellite transmission solutions, voice services, managed network services and security. The company is now expanding into unified communications and OTT video.
The company identified an opportunity around the Hong Kong Sevens Rugby tournament, Hong Kong's premier annual sporting event, to showcase its digital media delivery capabilities. In April 2017, PCCW delivered the world's first live 360-degree coverage of the 2017 Cathay Pacific/HSBC Hong Kong Sevens. This was also the first time in Asia that any major international event had been done in 360-degree video, according to the company.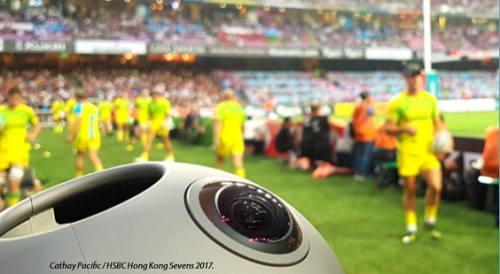 The PCCW Global team worked with Now TV (PCCW-owned Hong Kong broadcaster), Ideal Systems (a broadcast and VR systems integrator) and Nokia's OZO 360-degree cameras to deliver a full VR solution in less than six weeks.
Telco Transformation sat down with the man who spearheaded this initiative -- Alex Berriman, PCCW Global's eSports and VR expert -- to understand the company's reasons for doing this, the key challenges that came up and the advice he would offer others.
TT: How did you get into 360-degree video?
AB: When I joined PCCW 14 months ago, my role was to look at new markets in media. I looked at eSports first and then started to look at VR. I would say 2016 was really the first year we looked at VR. Before that my background was with Now TV. I had worked with Now on the Rugby Sevens contract. So I knew the people, had access to the stadium, the guys on the ground.
I approached the league with the idea of covering the event in 360-degree, and they loved the idea. Rights were with Now TV, which was OK since it was part of the same company. So we went to them [Now TV] and got approval, which was not a problem. We partnered with Ideal Systems on the VR production side, and decided to move forward.
TT: How did you decide on Rugby Sevens in particular?
AB: The Rugby Sevens tournament in Hong Kong is part of the global HSBC Rugby Sevens World Series. It's a seven-a-side format played in the same-sized field. There are ten stages, each in a different city. It goes from Vancouver, to Dubai, to London -- all over the world.
Hong Kong is the biggest [location]. It has 28 teams while most other cities have 16, and it lasts three days. It's also Hong Kong's biggest sporting event.
Each match in the format is 14 minutes so it's fast and well suited to VR. Players run on the field, play and run off 14 minutes later. Given that VR is new, people are not used to it. And headsets are heavy, people just haven't got that used to it, this kind of short format we thought would be well suited to it.
TT: What were the major challenges making this work?
AB: Challenges... well, we hadn't done anything in VR. We had read about it, looked at it -- but it was all theory-based. We also found that VR production companies, VR cameras, most of these were not really market tested. We went with Nokia, they just seemed more professional-grade. We did look at some others but they were more DIY solutions, where multiple camera feeds were stitched together. They just looked messy.
This was definitely a first in Asia, to do a live event with multiple cameras in 360-degree video. Mostly we have seen VR done in VoD. You have more time, you can deliver it via a slower web connection, you can just upload it to YouTube and everyone can see it.
For us the biggest challenge was the live streaming of the event. We had six weeks to get it all done, and we had to solve our own problems because it was all so new, there was no way we could copy someone else.
TT: In terms of technology hurdles, what were the big ones?
AB: I would say processing. Bandwidth is limited and we were sending it out live. The OZO cameras do the stitching [of the feeds from multiple lenses] within the camera itself. That feed is then sent to the master control in the stadium. Because it's live we can only send it through the compression only once. We used Harmonic 4K encoders. We had to work with the best because we couldn't send it through multiple times as with VoD, where you can experiment with compression settings to do it better.
The raw feed from the camera is 6 Gbit/s, which we needed to compress to 25 Mbit/s -- which is still quite a lot. In Hong Kong we are lucky that we have a fiber-to-the-home [FTTH] network so we can do that. But it is one of the problems with VR. It will have to be a premium product, probably aimed largely at the big cities with high-speed broadband connections for now. In fact to offer a really high-quality experience we will have to do the capture and distribute in 8K.
The OZO actually has 8 lenses to capture 2 x 4K 360 images, but we only used 4 lenses to capture a single 4K 360 image, as we only had six weeks to do it.
TT: What advice would you offer someone who wanted to do this?
AB: Definitely more lead time. This was an ambitious project with a lot of moving parts. One thing I would definitely say move quickly on is getting the app approved. You need to get it approved [for the major headsets.] -- we left it too late and only got approval one day before the start of the tournament. That left Now TV no time to market 360-degree coverage of the event.
I would also say manage expectations. When we said we would be capturing in 4K everyone got very excited. But for a 360-degree view means you see only a small window at a time, it's zoomed-in and it's highly compressed.
Camera placement is another thing you have to re-think. The 360-degree view and experience is different from traditional television, so you have to re-think the experience, and how you set up cameras.
— Aditya Kishore, Practice Leader, Video Transformation, Telco Transformation