Freesat is a UK-based free-to-air digital satellite TV service, created as a joint venture between public broadcaster BBC and commercial broadcaster ITV. Users need to purchase a mandated set-top device, but pay no subscription fee. Freesat was originally developed to reach the 10% of UK homes that do not have access to digital over-the-air broadcast signals. It currently has just under 2 million users.
The service offers a channel line-up similar to the digital over-the-air broadcast platform Freeview, coupled with interactive services and VoD services (via broadband connected set-top boxes) from UK broadcasters BBC, ITV, Channel 4 and Channel 5. Freesat has also integrated OTT players such as Netflix, Wuaki.tv, Curzon Home Cinema, Hopster and YouTube into its platform.
Telco Transformation met up with Matthew Huntington, Freesat's CTO, to discuss two recent announcements from the satellite operator.
Telco Transformation: Freesat has just announced deployment of your in-house TV guide on another operator's network. How did that come about?
Matthew Huntington: We developed Metaphor, our connected TV guide platform to serve our own strategy for multiscreen delivery. But it was developed as a truly cloud-based infrastructure, accessible from anywhere in the world. We deployed it very successfully -- it has been downloaded 750,000 times -- and then decided to take the technology package to resell internationally. And we won business with RTÉ (Ireland's national TV broadcaster). They needed help developing their own multiscreen platform and we were able to address their needs.
TT: What is the technology you are providing them with?
MH: It's a comprehensive package for the Metaphor product. We aggregate metadata for the service, and, using their website, launched their website TV guide and mobile service. This included a rebranding of the service to "Saorview." The Saorview app has a seven-day programme guide, and an editorial recommendation service, "Spotlight", showcasing the best programming for the week ahead. Freesat has an editorial team that produces, artwork, content etc. for that, and it includes linear and VoD selections.
It's all built off of Metaphor, which allows any operator to build a customizable connected TV product, within its existing brand and infrastructure using the platform. The entire solution can be managed by Freesat's operational team, from our NOC in the UK. Saorview, for example, has only two employees for the hybrid service. Obviously the organization has many others there. But for this service, they have just two people. We manage the rest. Others can choose just to use the consoles, but for Saorview we handle the full operation.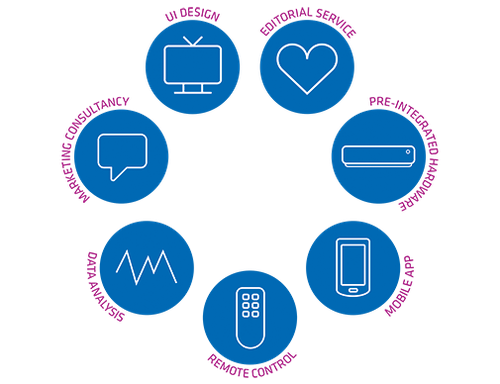 The guide uses existing linear infrastructure but is an end-to-end solution for hybrid platforms. It includes metadata, service management, recommendations, ID management for registration and it can take the existing guide and rework it for mobile. And the guide deployment is part of the Saorview Connect project, which isn't done yet, but will see us offer an end-to-end solution for the Saorview service.
TT: Did this just happen, or were you actively looking to "productize" your platform and sell it to others?
MH: No it was a conscious decision. We were looking to "vendorize" our technology and diversify our revenue base. That was something we discussed and came to a conclusion on.
A big driver for us is scale. We want to try and drive scale across operators for our technology, which then helps us in different areas. It helps with driving set-top box development, it helps with much of the costs for software development, and it helps us with acquiring content also. So scale can beneficial for us now and can help us in the future also.
We'll have part II of our interview with Matthew Huntington up in a few days, where he will talk about Freesat's recently launched real-time measurement service, the operator's reasons for deploying it and interesting and unexpected findings from the data.
— Aditya Kishore, Practice Leader, Video Transformation, Telco Transformation