It's that time of year again when the media industry converges on the RAI exhibition center in Amsterdam. IBC is an annual convention for broadcasters, content creators, technology vendors and others involved in the creation and distribution of television and radio content. It is Europe's largest broadcasting show, though in recent years it has made a concentrated effort to expand its appeal and position itself as centered on media and entertainment.
Running from September 8-13 this year, the show increasingly attracts network operators and telecom vendors as well. My colleague, Mari Silbey at Light Reading, spelled out the major trends anticipated at the show yesterday, but we also spoke with Michael Crimp, IBC's CEO and the man charged with managing and promoting the event to get his views. (See
Top TV Trends Heading Into IBC
.) In this exclusive interview with Telco Transformation, Crimp discusses how the show is shaping up this year, major trends and tracks at this year's show and how the show represents the evolution of the industry.
Telco Transformation: IBC announced 55,000 attendees and 1,600 exhibitors last year. How's the show shaping up this year?
Michael Crimp:
We had 55,000 attendees last year and we're running about 4% to 5% ahead in terms of registrants for 2016, so we expect growth. Usually we announce on site how many people came through the door, so we can only really compare at the event. But we have a pretty good conversion rate (from registrants to attendees) and we have good growth in registrants so we are fairly confident we'll continue to grow this year, as we have been.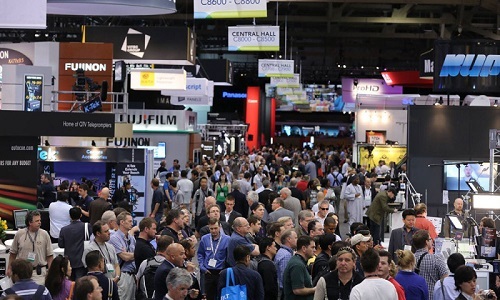 With exhibitors also, it's been positive. We've sold record space again. I think we are up about 10% this year. So we're seeing growth across the board and among some key companies.
TT: What are the big trends that you are seeing this year, judging from exhibitors and registrants so far?
MC:
The biggest growing area for us is the "Content Everywhere" track which we introduced two years ago. We've grown this and expanded it in response to the broadcast evolution that we saw coming. Broadcast was originally a one-to-many model, and we're now seeing a trend towards personalization coming, through multiscreen delivery. It's more of a one-to-one model, either subscription or download. This (the Content Everywhere initiative at IBC) is more a business model discussion, not so much technology, and it's the fastest growing. It's up about 10% and obviously an important, ongoing trend. We'll also see strong demos of 4K, as that continues to grow. But we're seeing companies that were talking about launch in previous years are now looking at (driving) adoption, so we're moving into a different market stage. But there's also a lot on interoperability. We have the "Interoperability Zone" at IBC this year. The industry is trying to develop IP standards, and we're trying to help move them on, help the industry benefit. It's a big step change, moving to a more IP-based approach, more interoperable, plug-and-play compared with a more systems integrator-black box kind of approach in the past. Virtual reality is another key area of innovation. We will have a "Virtual Reality Zone" and "Virtual Reality Theatre" at the show. It will be right on the floor -- visitors can see the technology and experience virtual reality at the show. It is a major new technology within the industry, we're seeing more devices and innovation. We are looking for more content, but that's the classic chicken and egg scenario with technology and content. You need technology in place to drive content development and production, but without the content it's difficult to push the technology. So that is an area where we are trying to stimulate the industry. Virtual reality is a different experience, it's a different way of telling a story. But the IBC audience is good with telling stories. So they are the right people to drive virtual reality. And there's business transformation -- that's another big issue for us, which includes the creative side, the technology side and the business models. Getting all three to transform in the right way is going to be important for the industry.
TT: Do you think these are also the biggest trends in the media industry?
MC:
I do because we develop our agenda that way. IBC has a number of expert committees and these are groups of experts in key sectors, and they are the ones who help us set our agenda for the show. So we get early on to new ideas, and try to be at the leading edge of new issues in the industry. I do think the IBC agenda is a good reflection of the industry. There's also a lot of business that is done at the show. There will be announcements on 4K, new OTT services being launched at the show. So it's a driver of new development in the industry as well. Many of these technologies were discussed in previous years, now they have been launched, become normal now, business as usual.
TT: IBC attendees have expanded beyond broadcast in the past several years, to include OTT services, pay-TV providers, network equipment vendors. Is this a conscious strategy on your part or has it just happened organically?
MC:
No, it's conscious. If you look at IBC about ten years ago, it was a terrestrial broadcast show. We've made a decision to grow from there, because we realized broadcast would be delivered in a different way in the future. We tried to look forward, and be more agnostic about broadcast TV. We saw that TV, cinema, mobile, PC -- all these will have content, and who knows what we'll call what in the future. What will be TV or OTT etc. So we needed to bring it all together at one show. If you look at our agenda, and at our speakers this year, it's a very wide set of speakers. We have Ang Lee, a famous film director [
Life of Pi; Brokeback Mountain; Crouching Tiger, Hidden Dragon
], we have the head of video from NASA and we've got Martin Sorrell, who is probably the world's best expert on advertising. So we cast a wide net, and try to keep everything that's relevant in it. We want to help understand what people will watch and how we can then develop that content, distribution, building new businesses.
— Aditya Kishore, Practice Leader, Video Transformation, Telco Transformation