Enterprises are increasingly recognizing the potential of IoT and coming up with definitive strategies for tapping the technology to improve their own business process.
That's one of the themes of Vodafone's IoT Barometer 2016 report. Even among the businesses that have reached the point of achieving ROI on their IoT investments, the report finds five distinct stages for implementing the technology.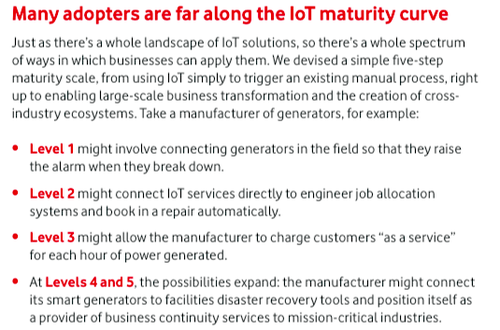 In Part 1 of this Q&A, Vodafone's Andrew Morawski, head of IoT, Americas, shares his insight on what goes into successful IoT implementations with Telco Transformation and which barriers companies still need to overcome. (In Part 2, he discusses the roles that cloud, big data and 2G will play in building IoT platforms.)
Telco Transformation: With companies currently reporting themselves to be at different levels of IoT adoption, to what extent do legacy systems impede progress in this area?
Andrew Morawski: There are multiple aspects to this, not just systems. There is also retrofitting existing devices out in the field. All legacy aspects of a business have an impact on adoption. I tend to see customers adopting IoT in greenfield areas and then setting subsequent projects to enhance existing systems and retrofitting existing assets/devices as a second step. As companies are adding new IoT solutions to their organizations they get used to receiving specific data about connections through the new system. However, sometimes legacy systems do not provide the same data as newer systems, so it can be difficult to integrate the two.
TT: What other factors prevent businesses from investing in and extracting from IoT as much as they could?
AM: In terms of other factors, the Vodafone IoT Barometer 2016 made it clear that organizations need to have a clear target as to what they want to achieve through IoT in order to gain the most value from IoT; 82% of the best performing IoT adopters we found in the report had a clear target in mind when implementing the technology. A moving target or unguided implementation can ultimately prevent businesses from extracting as much as they can from IoT projects.
TT: In regards to the businesses that do have clear targets for their IoT projects, is that because they are in better communication with their service providers?
AM: It was great to see from the report the number of businesses that said they had a clear target in mind when adopting IoT. Solid communication with their provider is important in any implementation. However, I think we've seen clear targets for IoT projects because organizations are better at understanding the value that IoT can bring to their business. They have identified specific needs within their organization where they think they know IoT solutions can help before even implementing the technology.
Businesses have gained this confidence thinking about how they can develop IoT directly into their business processes instead of simply saying they need IoT solutions for the sake of connecting things. Instead, they're applying true business acumen to drive IoT projects, which leads to the fact that we're seeing significant ROI for companies. Sharing of goals and objectives at the start of any project, in any industry, will always deliver a better result. It is even more important in areas where you are breaking new ground with technology, business and business transformation.
TT: Can you discuss the ways successful users of IoT involve external providers?
AM: Success in deploying IoT is all about the ecosystem and sharing data across that ecosystem. We have seen from the Vodafone IoT Barometer that those businesses that have seen significant return from IoT are the most comfortable with sharing data between organizations. This sharing and pulling together different participants will become more prevalent in industries such as consumer electronics and the connected home or the automotive sector and connected cars and the development of smart cities which will involve public and private sector organizations to work together. Partnership is key to a complete, comprehensive, successful IoT project.
— Ariella Brown, Technology Writer, Telco Transformation