Comcast announced on Thursday that it had another record-breaking performance for the most recent edition of its binge-inducing Watchathon Week, which took place April 18 to 24.
For the fourth-consecutive year, Comcast's Xfinity Watchathon Week broke viewing records on Xfinity On Demand with subscribers watching nearly 71 million hours, which was up 10% from last year, across its Xfinity TV platforms.
Mobile viewing had a huge spike with Comcast Corp. (Nasdaq: CMCSA, CMCSK) customers watching 8.1 million hours of programming -- 40% more on-the-go viewing than last year -- on Comcast's Xfinity TV app and across programmers' apps.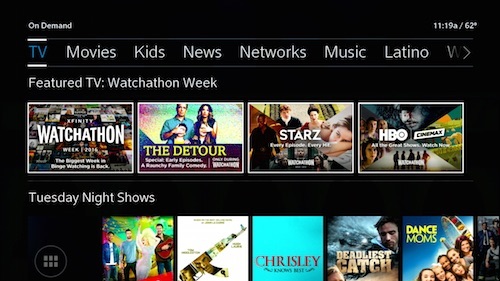 Dating back to 2009, Comcast was an early proponent of TV Everywhere (TVE). Comcast Cable's Vito Forlenza has been front and center for Comcast's TVE efforts including work on cross-platform events such as the Olympic Games, March Madness, the World Cup, the NFL Draft and The Masters.
Forlenza, senior director, TV Everywhere content and product strategy for Comcast Cable, has guided and shaped Comcast's TVE offerings with programmers and on its Xfinity TV platforms, which include Xfinity.com/TV and the Xfinity TV mobile app. Forlenza recently spoke to Telco Transformation about Comcast's TV Everywhere initiatives. (This is the first in a two-part Q&A with Forlenza.)
Telco Transformation: Why don't we start with a state of TVE at Comcast?
Vito Forlenza: Basically what we are seeing is we have about 35% of our double play customers who are using some form of TV Everywhere. When I say some form of TV Everywhere I'm referring to the Xfinity TV website, the Xfinity TV mobile app or any of our partners' properties such as HBO Go or Watch ESPN. That's up about 39%; 40% over the last two years.
TT: What is the penetration of TVE for Comcast subscribers?
VF: The TVE penetration among our subs is 35%, which, depending on which numbers you look at, is about 17% higher than what we're seeing in the rest of the industry. We are seeing tremendous growth in this area. Our costumers are basically getting much more familiar with watching video online.
TT: So you have the NCCA basketball tournament, college football in the fall and the Olympics are coming up this summer. Sports is a huge driver for TV Everywhere viewing?
VF: Absolutely, that's one of the things we know works for TV Everywhere. One of the things that is driving a lot of interest right now is NBA basketball. We have over 110 live streaming networks with 24/7 live streaming networks on Xfinity TV today. We'll sail past 150, by the end of the year.
If you go onto our site and you look at the live networks, you'll see that we've launched a bunch of sports networks. We're into baseball now, the NASCAR Chase for the Championship, then the Olympics. Sports is a huge driver for us and they're year round now.
TT: Other than sports, what else else are subscribers watching on TVE?
VF: We are also seeing a lot of attention around news, which is very important this year with the elections. We've seen some big numbers for the debates. Anytime there is a big election we're seeing users come to our site. They're watching coverage from CNN, or Fox News or MSNBC. They are able, with just one application, to poke around for the best live coverage that we have to offer and we have it all in one spot for them. That's similar to sports where you get all these games in one place. They get all their coverage of what is going on with the elections in one place.
TT: I hadn't thought of TV Everywhere for catching up on political coverage, but you're saying it's pretty big?
VF: That's right, and in addition to the live we have a lot of on demand coverage. We have some news programs on demand and some news magazines that you can come in and watch the next day. For entertainment, we have some of the best series stacked so you can start from the beginning and watch. You would be able to come on our site and stream a show on demand right from your phone or your laptop or your table. We have a wide breadth of content.
TT: How much has the content side grown?
VF: In 2011, we had 45 networks ordering in VOD content, and that was all of the content we had. Now we have over 170 networks ordering in VOD content. Now we have live content from over 100 live networks. You can come and download a movie or a show before you hop on a plane or hop on a train or something like that. That enables you to do offline viewing. In 2011, we had seven networks and it was web-only. Now we are across 18 devices and web, mobile and connected TVs. Now we have 92 partner sites and our customers are watching a plethora of content. We've come a long way in a short amount of time.
— Mike Robuck, Editor, Telco Transformation