Seen & Heard: Less Is More for CenturyLink

CenturyLink is taking a novel approach to the third iteration of its software-defined network (SDN) and network function virtualization (NFV) blueprint, which includes reducing complexity.
Light Reading Editor-at-Large Carol Wilson wrote about CenturyLink's new plan for speeding up new services and infrastructure as a means for faster deployments. Wilson interviewed the service provider's Adam Dunstan, vice president of SDN/NFV engineering, who previously held the positions of CEO and President at Active Broadband Networks prior to CenturyLink's acquisition of the company last year. (See CenturyLink: Kill Complexity to Speed NFV and CenturyLink Buys Assets of Active Broadband.)
---
Want to know more about the companies, people and organizations driving developments in the virtualization sector? Check out Virtuapedia, the most comprehensive online resource covering the virtualization industry.
---
In most cases, service providers' migration to virtualization have led to the addition of more components and functions that attempt to bridge the legacy networks with new virtualized elements and applications. By bringing a software developer's mindset to his job, Dunstan has taken a subtractive approach instead of an additive approach to CenturyLink's third-generation NFV/SDN employment, which he said would increase CenturyLink's velocity.
Wilson wrote that Dunstan's NFV/SDN engineering team was leveraging Agile IT software development principles that were also used at Active Broadband. Instead of relying on vendors and system integrators, Dunstan's team is taking an internal approach to its next NFV/SDN phase by writing its own software.
— Mike Robuck, Editor, Telco Transformation


During this radio show, Adam Dunstan, CenturyLink's vice president of SDN and NFV engineering, will talk about CenturyLink's approach to making its network less complex while adding flexibility and automation.
Thursday, March 16, 2017
12:00 p.m. New York/4:00 p.m. London
The promise of 5G connectivity is a truly Networked Society. 5G is not just about making the throughput larger, it is also about offering use case optimized user experiences and inclusion of new vertical sectors. Use cases predicted for 2020 will need new types of connectivity services that are highly scalable and programmable in terms of speed, capacity, security, reliability, availability, latency and impact on battery type. 5G will need to be an agile, dynamically programmable network that can meet diverse needs with new, as-a-service models on a single infrastructure. In this Webinar, you will learn how the Open Networking Foundation is combining open source and software defined standards through its Open innovation Pipeline to advance innovative architectures such as mobile CORD (M-CORD). M-CORD is being developed by the CORD Project community under ONF's leadership and hosted by The Linux Foundation. Built on the pillars of SDN, NFV and cloud technologies, the end-to-end M-CORD open reference solution is arming operators with the capabilities needed to start planning for the upcoming 5G transition.
All resources
Barcelona Shines During MWC
Slideshow archive
Dissecting 'Mobile-First' Usage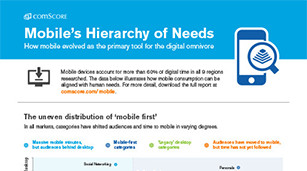 Infographics archive