Seen & Heard: WOW Kicks NFV Tires

Similar to the same path trod by services providers such as AT&T, CenturyLink and Telefónica, WOW's road to network virtualization is starting with NFV-based business services.
According to a story by Light Reading's Mari Silbey, WideOpenWest Holdings LLC (WOW) , a cable over-builder, has started combining virtualized components with its existing equipment from multiple vendors. The NFV benefits for WOW include automating service provisioning, connection optimization and network security for its business customers while also shedding hardware-based solutions. (See WOW Trials NFV for Business, Eyes Residential .)
The big picture will also include using NFV for services and applications for WOW's residential customers.
"The next 12 months is going to be learning and refining what we're doing and how we're doing it, and then my hope is that at that point we're full speed ahead around more than just business services," said WOW Vice President of Engineering Eric Fligel, in the Light Reading story. "I would expect over the course of the next 24 to 36 months to really see significant change from an infrastructure standpoint."
— Mike Robuck, Editor, Telco Transformation


During this radio show, Adam Dunstan, CenturyLink's vice president of SDN and NFV engineering, will talk about CenturyLink's approach to making its network less complex while adding flexibility and automation.
Thursday, March 16, 2017
12:00 p.m. New York/4:00 p.m. London
The promise of 5G connectivity is a truly Networked Society. 5G is not just about making the throughput larger, it is also about offering use case optimized user experiences and inclusion of new vertical sectors. Use cases predicted for 2020 will need new types of connectivity services that are highly scalable and programmable in terms of speed, capacity, security, reliability, availability, latency and impact on battery type. 5G will need to be an agile, dynamically programmable network that can meet diverse needs with new, as-a-service models on a single infrastructure. In this Webinar, you will learn how the Open Networking Foundation is combining open source and software defined standards through its Open innovation Pipeline to advance innovative architectures such as mobile CORD (M-CORD). M-CORD is being developed by the CORD Project community under ONF's leadership and hosted by The Linux Foundation. Built on the pillars of SDN, NFV and cloud technologies, the end-to-end M-CORD open reference solution is arming operators with the capabilities needed to start planning for the upcoming 5G transition.
All resources
Barcelona Shines During MWC
Slideshow archive
Dissecting 'Mobile-First' Usage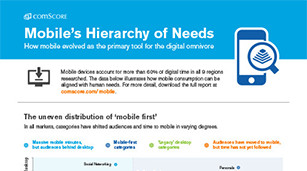 Infographics archive