Transformative Trump?

Whether you're hungover from celebrating Donald Trump's surprising electoral victory or blue due to Hillary Clinton's loss, the technology tectonic plates could be shifting.
For now, we're stuck with speculating on the impact Trump's presidency will have on the telecom industry in particular and technology in general. While Trump doesn't appear to be too tech savvy, he has provided a few clues during his campaign.
Trump openly opposed AT&T's prospective acquisition of Time Warner, and even threatened to unwind the Comcast/NBCU deal. Trump could, in theory, throw a wrench into the Time Warner/AT&T transaction, but it's pretty far-fetched to think that he would be able to split up Comcast and NBC Universal. (See Merger Musings: TW + AT&T = ?)
Here are some other Trump-related rumblings regarding his possible influence on the telecom sector:
Light Reading's Carol Wilson noted that Trump singled out net neutrality as an attack on the Internet during his campaign. (See Trump's Impact on Telecom Still Uncertain.)

Light Reading's Mari Sibley wrote that Trump's victory would have an impact on re-shaping the Federal Communications Commission, which is slated to lose Chairman Tom Wheeler in the not too distant future. Trump will name Wheeler's successor while the Commissioners will switch from a majority of Democrats to a majority of Republicans. (See Trump Win Will Reshape FCC .)

During the first presidential debate, Trump said, "We need to get very, very tough on cyber and cyber warfare," before noting that his ten-year-old son "was so good with computers; it's unbelievable." Trump didn't say how he would solve cybersecurity issues. (Maybe he could ask Vladimir Putin and Russia for help here?)

In a meeting of the minds, Putin congratulated Trump on his win via telegram. (Historical note: The telegram put the Pony Express out of business here in the US.)

According to a story in the The Wall Street Journal, Silicon Valley venture capitalists, along with most stock markets other than Russia, woke up with a sense of dread this morning.

In December, Trump said he would call upon a friend, Bill Gates, to shut down the Internet in an effort to thwart terrorist groups' recruiting efforts.

While US citizens reconcile themselves to President Trump, the ripples of concern extend overseas to telecom vendors that do business here, according to this story by Light Reading News Editor Iain Morris. (See Blond Buffoon a Worry for Telecom Vendors.)
The short-term good news? It's a long road ahead before Trump will have an impact on the FCC, the telecom industry and the technology sector, but, just like in the second presidential debate, he's looming large in the background.
— Mike Robuck, Editor, Telco Transformation

10/16/2017
Huawei Network Transformation Seminar
The adoption of virtualization technology and cloud architectures by telecom network operators is now well underway but there is still a long way to go before the transition to an era of Network Functions Cloudification (NFC) is complete.

MEF is working to define, deliver, and certify dynamic communications services that are orchestrated across a global ecosystem of automated, virtualized and interconnected networks. In this radio show, MEF CTO Pascal Menezes talks about the challenges and the solutions that his organization is working on and provides a preview of the MEF17 conference in November.
Thursday, September 21, 2017
12pm EST
Software-defined networking (SDN) is a key component of services providers' virtualization game plans and AT&T and Level 3 Communications have been at the forefront of its adoption.
In this webinar, Andrew Dugan, CTO of Level 3 Communications, and Amy Wheelus, Vice President of Cloud and D2 Platform Integration at AT&T, will discuss how their companies have leveraged SDN within their networks, services and applications. Some of the key areas that will be covered include:
Automation, APIs and lifecycle service orchestration
The continued evolution of SDN-based solutions and SDN in networks, including SD-WAN, dynamic cloud connections and scalable Ethernet and security solutions.
All resources
NFV/SDN: Summit Ascent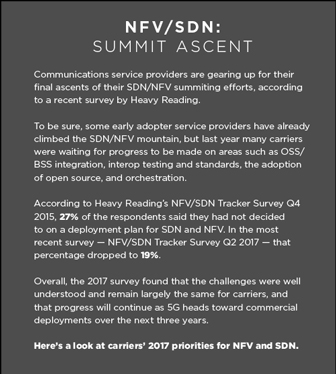 Infographics archive