Developing open source ecosystem partners topped a recent Telco Transformation poll that asked, "What type of ecosystem partners are telecom operators in most need of right now?"
Out of the 42 votes, "open source ecosystem partners" garnered 28% of the votes while "NFV development partners" came in second with 24%.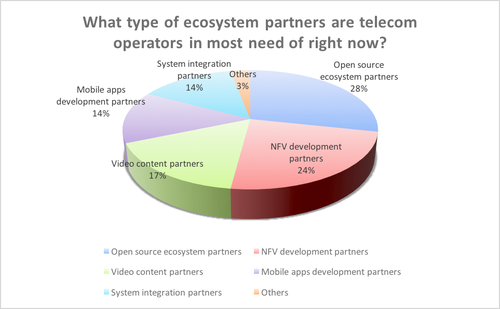 When it comes to open source partners, there are numerous options. AT&T Inc. (NYSE: T) is a poster child for open source communities with its activities in OpenDaylight , OpenStack , Open Platform for NFV Project Inc. and ONOS . In order to become even more involved with standardization efforts, AT&T and Orange (NYSE: FTE) announced on Wednesday that they were aligning forces on SDN and NFV efforts. (See Seen & Heard: AT&T, Orange Team Up on Open Source & SDN.)
Last week, AT&T announced it was serving up its Enhanced Control, Orchestration, Management and Policy (ECOMP) platform to the Linux Foundation in the hopes of spurring broader adoption across the industry. (See AT&T Offers 'Mature' ECOMP as Open Source MANO.)
Earlier this year, OPEN-Orchestrator Project (OPEN-O) and Open Source MANO Community (OSM) were launched as multi-carrier open source communities. (For more on OPEN-O, see OPEN-O Director Marc Cohn on the Importance of Community Effort.)
As for the rest of the poll, "video content partners" took third place (17%), while "mobile apps development partners" and "systems integration partners" tied for fourth (14%).
— Mike Robuck, Editor, Telco Transformation