June Caption Contest Winners

For the winners of last month's caption contest, Telco Transformation went with the Socratic Method: I asked cartoonist John Klossner to submit his favorite captions and then had my 10-year-old daughter select the top three winners.
By doing so, we've covered the gamut from a professional cartoonist to the largely Tabula rasa mind of a 10-year-old.
In second-place, but first-place for most entries, for the $75 Amazon card: "They're really good at picking out bugs," by Joe Stanganelli.
The winner of third-place and the $50 Amazon card is: "Mailchimp HQ—Welcome to MailChimp," by faryl.
Congrats to the winners. Thanks again for all of the great entries and we'll post the July caption contest soon.
— Mike Robuck, Editor, Telco Transformation


In this Telco Transformation radio show, James Crawshaw, Senior Analyst – OSS/BSS Transformation, Heavy Reading, will discuss the challenges and opportunities around re-creating OSS in a virtualized world.
Thursday, March 16, 2017
12:00 p.m. New York/5:00 p.m. London
The promise of 5G connectivity is a truly Networked Society. 5G is not just about making the throughput larger, it is also about offering use case optimized user experiences and inclusion of new vertical sectors. Use cases predicted for 2020 will need new types of connectivity services that are highly scalable and programmable in terms of speed, capacity, security, reliability, availability, latency and impact on battery type. 5G will need to be an agile, dynamically programmable network that can meet diverse needs with new, as-a-service models on a single infrastructure. In this Webinar, you will learn how the Open Networking Foundation is combining open source and software defined standards through its Open innovation Pipeline to advance innovative architectures such as mobile CORD (M-CORD). M-CORD is being developed by the CORD Project community under ONF's leadership and hosted by The Linux Foundation. Built on the pillars of SDN, NFV and cloud technologies, the end-to-end M-CORD open reference solution is arming operators with the capabilities needed to start planning for the upcoming 5G transition.
All resources
No Linear Please, We're Millennial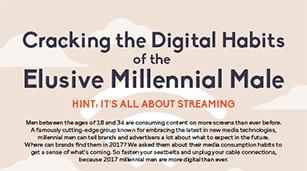 Infographics archive